After coming out on top in their respective quarterfinals, four teams advanced to Wednesday's Ylvisaker Cup semifinal doubleheader on February 21, at the International Polo Club Palm Beach in Wellington, Florida. In a lively first game, Valiente conquered the only undefeated team in the tournament, Tonkawa, 13-8 while GSA pushed Colorado into overtime and won 9-8. Valiente will play GSA in the final this Sunday, February 25, at 3:00pm ET for the Ylvisaker Cup trophy.
Tonkawa's Undefeated Streak Comes to a Close, Succumbing to Valiente 13-8
Cruising at the top of the leaderboard throughout bracket play, both Tonkawa and Valiente conquered their opponents in the quarterfinals to inevitably go head-to-head in the semifinals. Tonkawa, entering indomitable in both the tournament and 2018 season, faced polo powerhouse Valiente in the highly-anticipated match up, on their quest for a second consecutive tournament win, but suffered their first defeat.
"The team played great. I think Bauti scored a couple of goals in the first couple of chukkers so that gave him the confidence to get in the game, he has no experience at this level. And then Santi, you know, was up and down, and I think today he had a great game. We did great, Bob knows how to play these kinds of games, he has a lot of experience, he blocks really well for me. I think the team played pretty good, we are happy to be in the finals." – Adolfo Cambiaso
From the onset of the game Valiente took control of the field; Adolfo Cambiaso flanked by two pivotal teammates offensively in Santi Torres* and defensively in Bautisa Panelo. Starting off strong in the first chukker, not letting Tonkawa take an inch, Valiente lit up the scoreboard in rapid succession as both teams battled for possession at a blistering pace. Benefiting from penalty shots and a challenge won in the second, Tonkawa stayed in the game thanks to scoring from Sapo Caset and Julian de Lusarreta. The ferocity of Panelo's offensive skill was unleashed as he closed out the second with back-to-back goals. Valiente maintained a four-goal lead at halftime 9-5.
"[Playing with Valiente] It's incredible, it's a dream come true, definitely. I started with Adolfo and Bob in this organization in 2014, so it's a pleasure. Playing with these guys really, they give you a lot of confidence, they really have a system to play. This is my first final with Valiente and in professional polo!" – Bautista Panelo
Exploding onto the field in the fourth, Cambiaso secured the only goal of the chukker and successfully doubled up on Tonkawa's score for the third time. Torres, high scorer credited with delivering six of Valiente's 13 goals, rode with determined intensity to pick up two final goals in the sixth. A passionate yet commanding game from beginning to end, Valiente secured the first semifinal spot 13-8. "We are looking forward to it," said team owner Bob Jornayvaz, "we never actually got to play our [2016] final [due to rain], we've been here once before and had a weird thing happen, but we're so glad to be back!"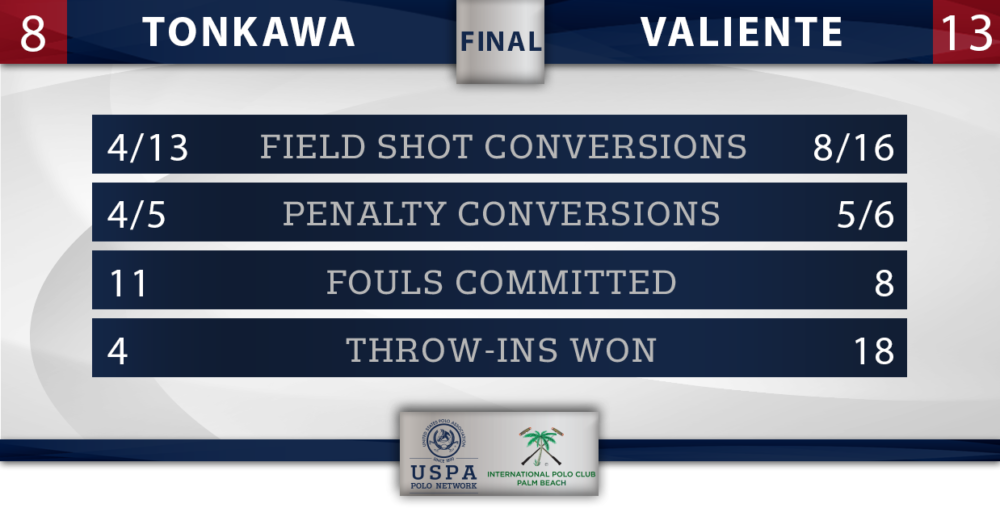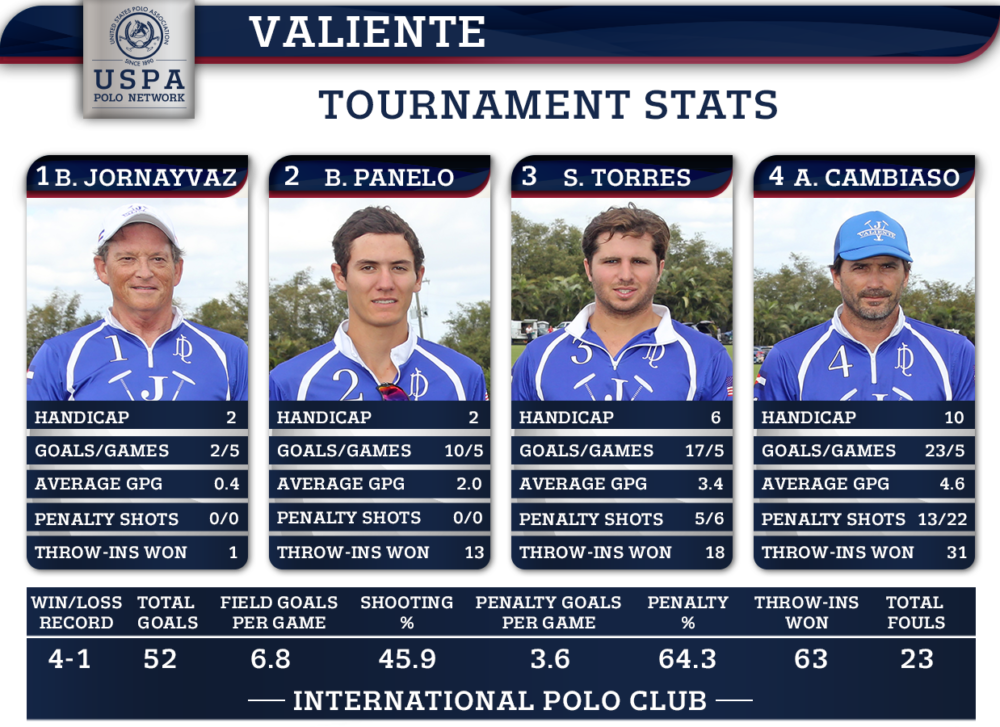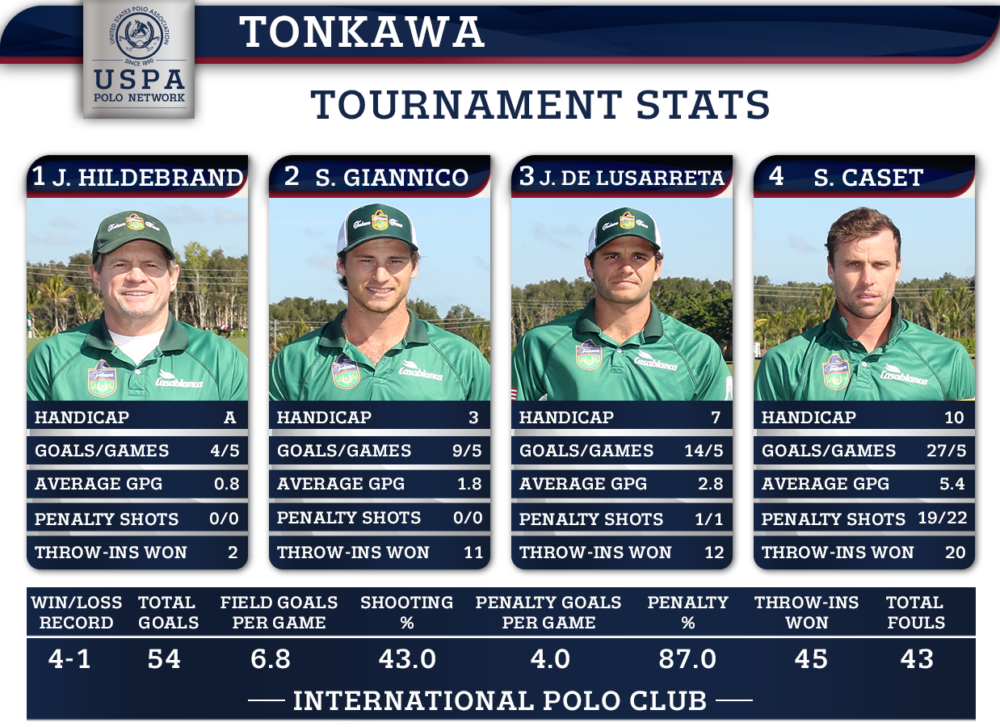 GSA Steals the Win From Colorado 9-8 in Overtime
In a relatively low-scoring semifinal, GSA found a way to turn the game around in their favor yet again, edging out their third team of the tournament by one goal. Slow to start, the first chukker opened with a beautiful run from Juan Britos to pick up Colorado's first goal. Keeping the game within one, the first half progressed with opposing players Diego Cavanagh and Mariano Gonzalez matching each other goal for goal. At halftime it was anyone's game with 4-3 on the scoreboard in favor of Colorado.
Pulling away steadily, Colorado outscored GSA in the fourth with a field goal by Britos, who then assisted with an offensive cut to Santino Magrini, enabling him to back the ball into the goal mouth. Meanwhile, Cavanagh, the pro responsible for half of Colorado's total eight goals, was heavily defended by GSA scoring just under his goals per game average of six. Making up for the disparity and fighting to stay in the game, GSA capitalized on Colorado's errors with two penalty conversions to bring them within one again by the final chukker. In a stroke of good fortune, GSA won a game changing challenge, causing the ball to be bowled in near Colorado's goal line. Matias Magrini's first goal came just in time with seconds to spare on the clock, tying the game 8-all and forcing overtime. "You need some luck in games like these, we were trailing a lot and then then with 15 seconds left in regulation we did it," said Mariano Gonzalez. "Colorado is a really good team, very even, really well mounted and they play well together. The only time we tied with them was right at the end, they were really strong."
In true GSA style, a single goal would determine the outcome of the game and less than 15 seconds into the seventh chukker, Henry Porter outmaneuvered Britos to cinch the golden goal. GSA emerged victorious 9-8, earning the second coveted spot in the final. "It feels unbelievable to win," said Porter. "I didn't score any goals during the game, so luckily the one I did at the end counted. This is my first Florida high-goal tournament, we played the East Coast Open, but this is the first time playing with us four together. Matias and I have played with each other a lot, but we haven't played with Mariano and Dylan. We threw it together and it turned out great!" When asked about playing Valiente in the final Magrini said, "Adolfo gave a lesson on how to play polo today, he has a hell of a team, a hell of an organization, and I love playing against him. It is always a challenge and we look forward to it."

The USPA Polo Network will livestream the Ylvisaker Cup Final this Sunday, February 25, at 3:00pm ET. The pre-game show, which will include exclusive interviews from both teams, will be livestreamed beginning at 2:30pm ET on uspolo.org. For those wishing to attend the game at the International Polo Club Palm Beach in person, please visit ipc.coth.com.
*Santi Torres and Rob Jornayvaz are members of Team USPA. Team USPA is a USPA program designed to enhance and grow the sport of polo in the United States by identifying young, talented American players and providing mentored training and playing opportunities leading to a pool of higher rated amateur and pro players and the resultant giveback to the sport of polo.