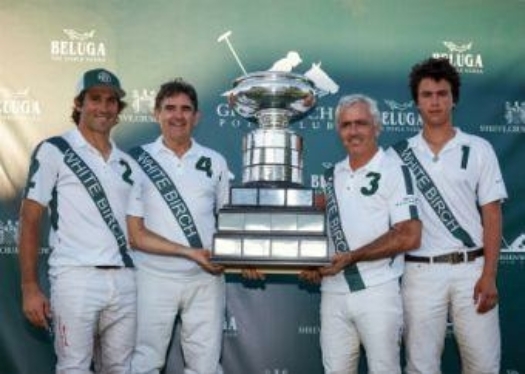 White Birch def. Goose Creek (11-9)
White Birch defeated Goose Creek in a tightly contested USPA Monty Waterbury Cup Final. White Birch scored the first goal of the game with a penalty three conversion from Hilario Ulloa. However, Goose Creek came back strong with three combined goals from Tomas Garcia del Rio and Mariano Gonzalez. Goose Creek continued their lead in the second, ending the chukker 5-2. White Birch turned the game around in the third chukker with three consecutive goals by Ulloa followed by one from Mariano Aguerre (three of the four goals were penalty conversions). Answered by only one goal from Tomas Garcia del Rio for Goose Creek, the two teams were tied 6-all at the half.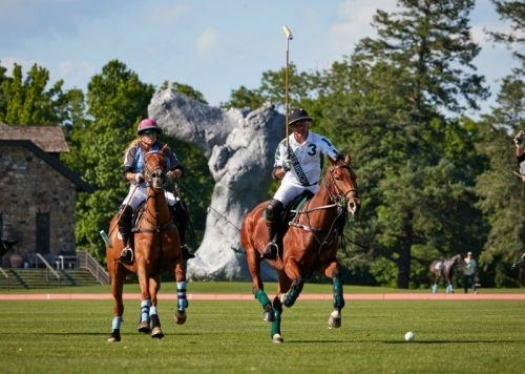 White Birch's Mariano Aguerre with the ball as Goose Creek's Maureen Brennan follows closely. Photo: Chichi Ubina
Between a scoreless fourth chukker and two goals from each team in the fifth, the beginning of the second half remained tied going into the final chukker. Goose Creek began the sixth chukker with a penalty two conversion from Mariano Gonzalez. Two goals from 9-goaler Ulloa combined with one from Santino Magrini, cemented the White Birch win, 11-9. Ulloa was the game high-scorer with a total 8 goals. He scored the winning goal in the last 2 minutes of the 6th chukker on his Best Playing Pony, 6 year old Chestnut mare, "Karen." With strong defense and 4 hard fought goals, Tomas Garcia del Rio earned MVP for the game. This is the third consecutive USPA Monty Waterbury victory for White Birch and their fifth title overall (2003, 2011, 2014, 2015, 2016). White Birch is now tied with Maryland based, late 80s and early 90s, powerhouse Gone Away Farms.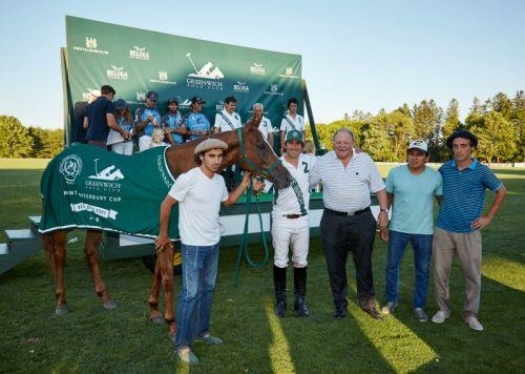 White Birch player Hilario Ulloa's horse "Karen" was named BPP of the Monty Waterbury Cup Final. Hilario scored 8 goals in total and the last goal in the last two minutes of the sixth chukker riding "Karen", his 6 year old chestnut mare. L-R: Agustin, Hilario, Peter Orthwein, Jairo and Cholo.