Vying for the coveted second leg of the Triple Crown of Polo™, four highly-competitive teams advanced to Wednesday's USPA Gold Cup® semifinal doubleheader on March 28, at the International Polo Club Palm Beach in Wellington, Florida. In a passionate first game, Valiente held off Tonkawa's comeback long enough to secure a narrow win 9-8, while Flexjet powered their way to victory over Daily Racing Form-DRF Bets 10-9. Valiente will challenge Flexjet in the final this Sunday, April 1, at 3:00pm ET on their quest to sweep the 26-goal tournament series.
Valiente Remains On Target with Semifinal Win
Emerging from a pack of six teams with a perfect record still intact, Valiente soared to the top of bracket play rankings, meeting Tonkawa in the USPA Gold Cup® Semifinal. Having defeated Tonkawa previously in the tournament, Valiente once again outmaneuvered their opponents 9-8.
Firing at the posts frequently, both teams suffered from numerous missed shots on goal keeping the score relatively even in the first half. A goal apiece moving into the second chukker, Sapo Caset picked up a pair of goals propelling Tonkawa into the lead. Valiente countered with one goal as Facundo Pieres finished off a play set up by Adolfo Cambiaso. "The idea is for Facundo to run with the ball, then he can score as many goals as we need," said Cambiaso. "Our plan is for me to give him good passes and he scores the goals. We are doing good with this plan, but we always have room for improvement," he continued. Gunning to overtake Tonkawa in the third, Pieres guided the ball through a cluster of defenders, but Julian de Lusarreta was able to break up the play. Tonkawa was caught shortly after on a safety, which Pieres converted. Battling every stride against Tommy Beresford, Caset added another to the board, while Pieres breezed down the field on a breakaway to goal ending the half tied 4-all.
Demonstrating superior strategy, within the first 20 seconds of the fourth, Pieres launched the first pass downfield to an expectant Cambiaso who finished the play, immediately followed up by a second goal from Pieres. All three 10-goalers making it on the board, Caset converted a Penalty 4, yet Pieres (his sixth of the day) scored another to widen the gap 7-4. Although Tonkawa fought hard collectively in the fifth, they could not grasp a single goal and fell further behind after two consecutive goals by Pieres. Starting off the sixth 9-5 in favor of Valiente, Tonkawa was committed to giving their all and left Valiente scoreless in the final chukker. Controlling the ball and keeping it out of Pieres' reach, Caset nailed a swift nearside neckshot and Lusarreta continued the forward momentum with another field goal. Bringing the scoreboard within one after a Penalty 2 conversion by Caset, Tonkawa's strong offensive push came too late and Valiente claimed yet another win 9-8.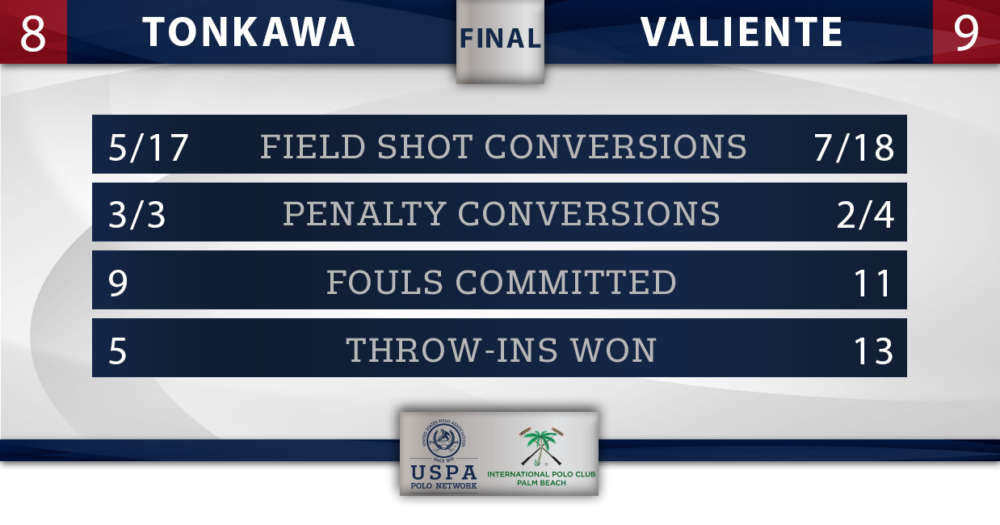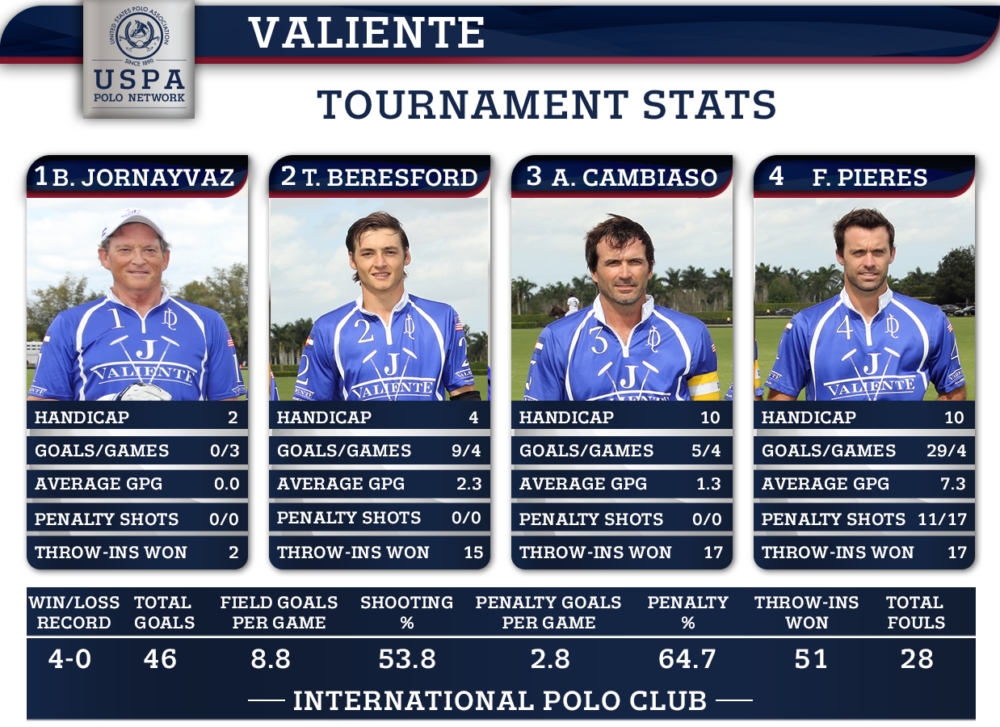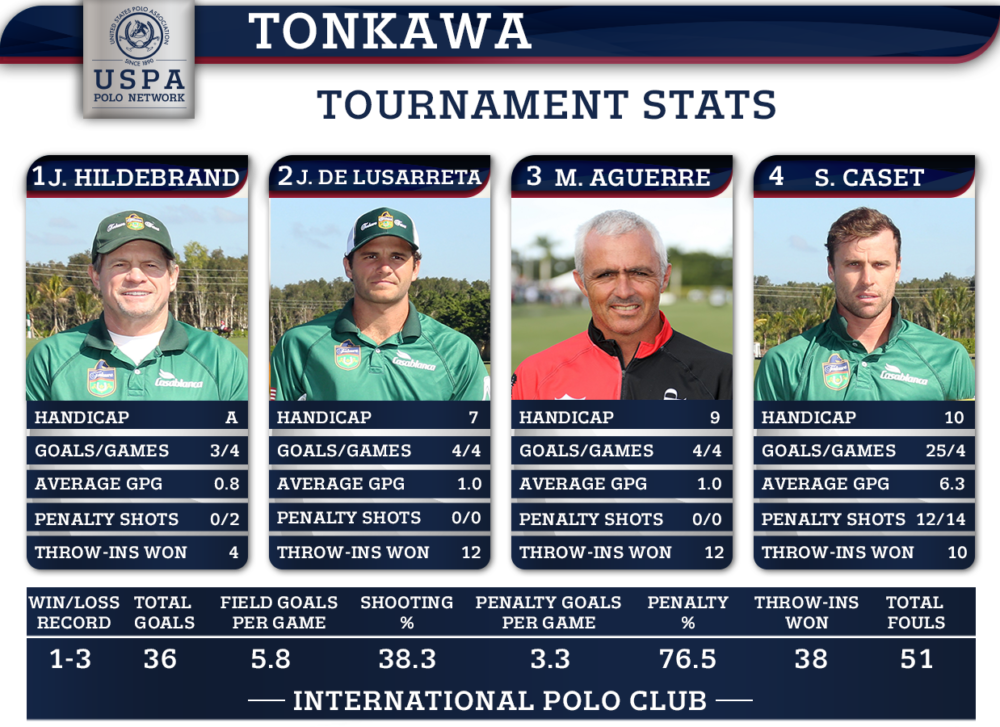 Flexjet Methodically Overtakes Daily Racing Form-DRF Bets
Although entering the second semifinal both 2-1, Daily Racing Form-DRF Bets' (DRF) only loss in tournament play came at the hands of Flexjet days earlier. Replicating Sunday's game, Flexjet played opportunistic polo to edge out DRF by one once again, 10-9.
Striking first from the field, Hilario Ulloa received a pass from Mariano Obregon which he carried straight to goal. Gonzalito Pieres raced downfield uncontested to pick up Flexjet's first goal, followed by a Penalty 4 conversion from Nico Pieres, but Jared Zenni* ended the chukker for DRF with a well-executed neckshot. Searching for easy opportunities to add points on the board, Flexjet's Rodrigo De Andrade won the first throw-in of the second and secured back-to-back goals in under one minute. Not to be outdone, DRF matched them. Still tied by the third, DRF began to play more aggressively. The strategy backfired however, and Flexjet was awarded two Penalty 2 opportunities which De Andrade easily converted to end the third 7-4.
Fighting furiously to make some headway, team captain Ulloa spurred his team forward, pushing past Flexjet defenders to score the only goal of the fourth. Recognizing another opportunity to regain possession De Andrade capitalized on a broken knock-in to score his sixth goal of the game. Spreading out and working as a team to prevent Flexjet from closing in, DRF protected Agustin Obregon as he ran out in front to escort the ball over the goal line. Now with all DRF teammates represented on the scoreboard, Zenni closed the fifth with a beautiful shot through the air, but Flexjet remained in the lead by a two-goal margin. Early in the sixth De Andrade hit a neckshot to goal which DRF could not tie up by the final 30-second horn. Escaping overtime and up by one, Flexjet secured their second victory over DRF 10-9, landing them in a final against the only team to defeat them in bracket play, Valiente.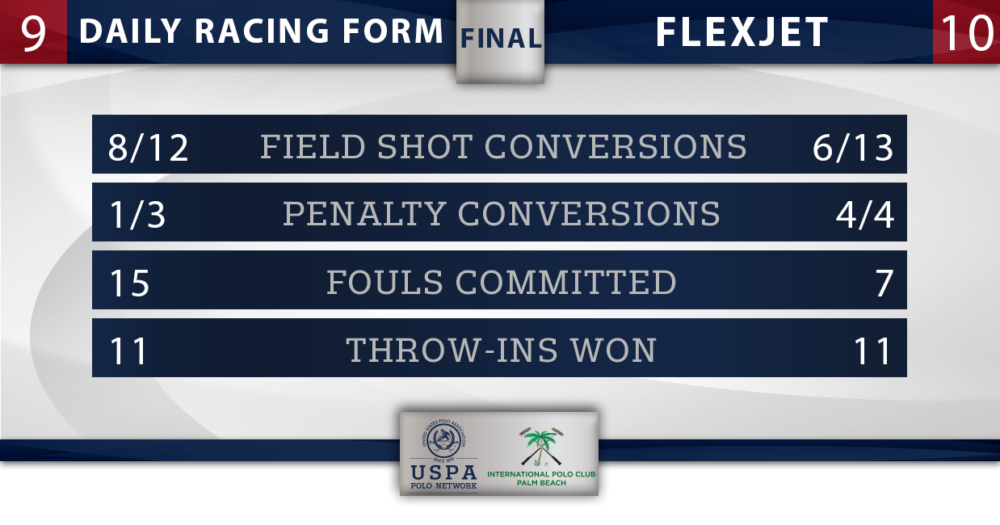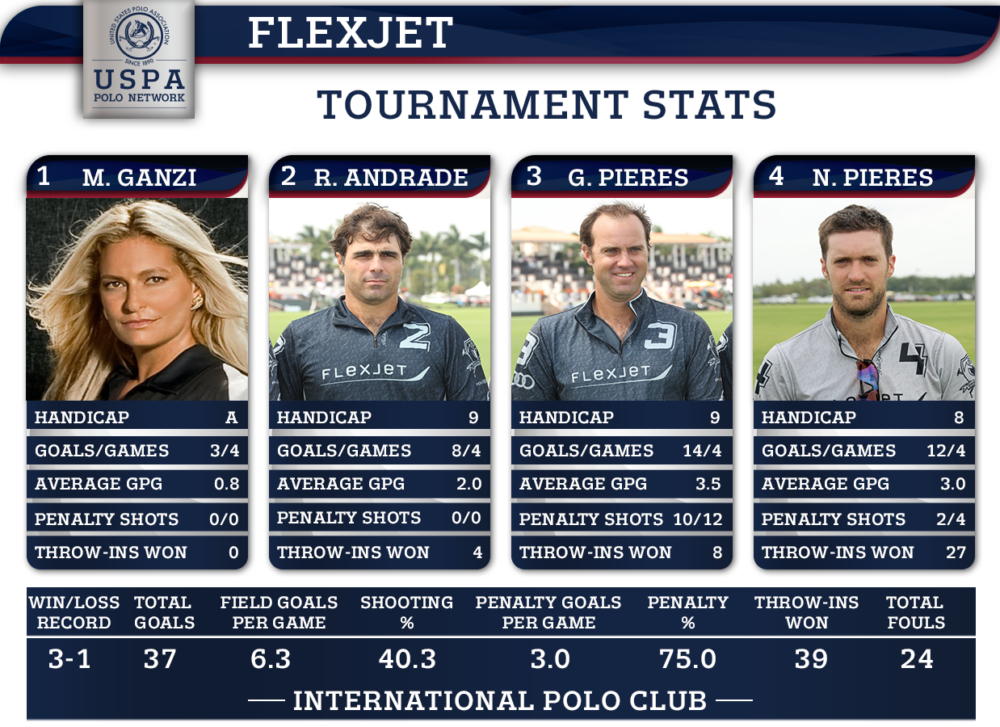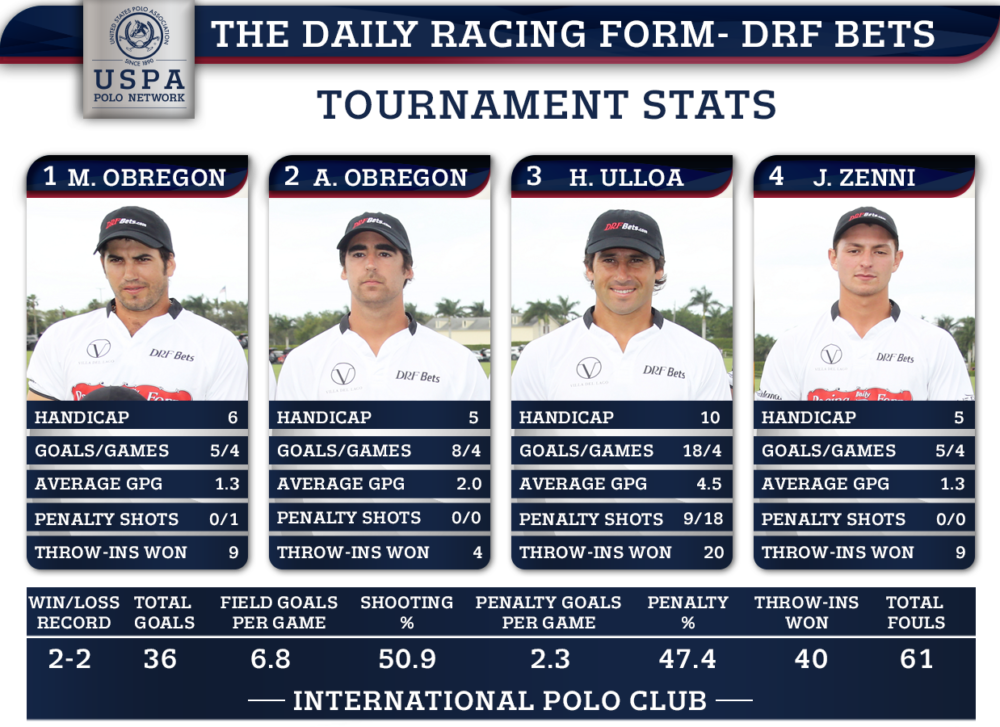 Valiente will go head-to-head with Flexjet on Sunday, April 1, at 3:00pm ET to decide the winner of the 2018 USPA Gold Cup®. The USPA Polo Network on uspolo.org will livestream the USPA Gold Cup® Final beginning at 2:30pm ET with an exclusive pre-game show. For those interested in attending the game at the International Polo Club Palm Beach in person, please visit ipc.coth.com.
*Jared Zenni is a member of Team USPA. Team USPA is a USPA program designed to enhance and grow the sport of polo in the United States by identifying young, talented American players and providing mentored training and playing opportunities leading to a pool of higher rated amateur and pro players and the resultant giveback to the sport of polo.
All photos ©David Lominska.