Story Courtesy of International Polo Club Palm Beach
Capturing the Most Valuable Player award during Sunday's 3pm game on the U.S. Polo Assn. Field 1, Facundo Obregon began the 2019 season in impressive fashion with a seven goal performance to lead La Indiana to the 10-9 victory over Coca-Cola. At age 29, Obregon has been a staple during the high-goal season at the International Polo Club Palm Beach in Wellington, Florida, often competing against brothers Mariano, Juan Martin and Geronimo, while playing in recent years for La Indiana and Tonkawa.
Working alongside Jeff Hall and Michael Bickford for the second consecutive season, Obregon has a critical role on La Indiana in the number three position where he must be in sync with Hall on whether to attack or remain defensive. The chemistry between Obregon, Hall and newcomer Toly Ulloa extends from the season at Santa Barbara Polo & Racquet Club in Carpinteria, California, where the trio played in the 16-goal season, reaching the finals of all three tournaments. Having the trust of veteran Hall has elevated Obregon's play to the next level with a confidence that produced an exceptional 2018 year. Obregon scored 2.7 goals per game throughout the 2018 20-goal season in a role that saw him also ignite the La Indiana attack with accurate passes, sending teammates Hall and Victorino Ruiz Jorba on runs downfield. With a multi-faceted game, Obregon has proven to be an important player, seamlessly transitioning from offense to defense and being a noticeable presence for La Indiana regardless of where he is on the field.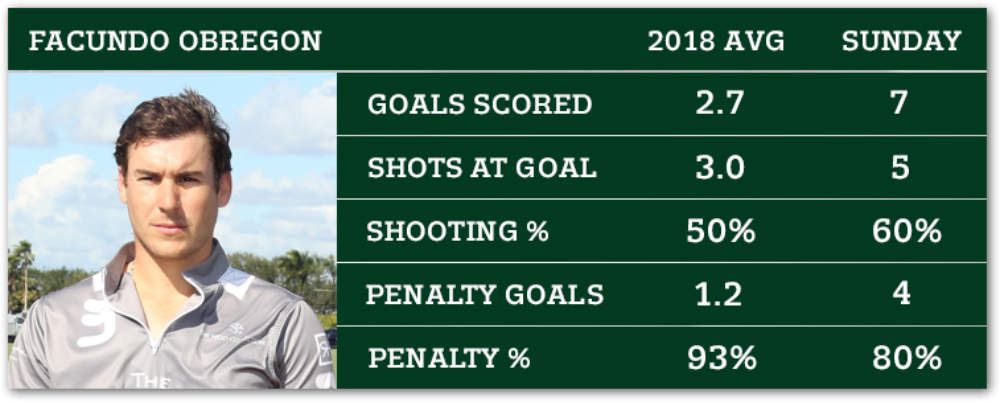 Standing out with his bright red helmet, Obregon's play also stood out in his 2019 debut on Sunday, January 20, leading La Indiana with five shots and converting at an efficient 60% from the field. Scoring more than four goals above his 2018 goals per game average in Sunday's game against Coca-Cola, Obregon is poised for a break out season with La Indiana with his role and impact on the game continuing to increase. Obregon's role has extended to the penalty line, where he is the primary penalty taker for the second consecutive season with La Indiana, converting four of his five attempts in the opening game. Last season, Obregon was as accurate as any player from the penalty line, converting 14 of his 15 attempts on the season. Taking on increased responsibility and almost certainly more penalty attempts this season, the six-goaler will be counted upon to capitalize on those chances to lead La Indiana to a successful season in the Ylvisaker Cup along with the upcoming GAUNTLET OF POLO™ series. Obregon will hit the field again on Sunday, January 27, when La Indiana faces Patagones in a match-up of two 1-0 teams, with the winner looking to secure their spot in the Ylvisaker Cup semi-finals.