Story Courtesy of International Polo Club Palm Beach
The first game of the 2019 Ylvisaker Cup on the U.S. Polo Assn. Field 1 saw La Indiana (Michael Bickford, Toly Ulloa, Facundo Obregon, Jeff Hall) hold on for the 10-9 victory against Coca-Cola (Gillian Johnston, Sugar Erskine, Julian de Lusarreta, Wesley Finlayson), while earlier in the day Patagones (Joaquin Avendano, Benjamin Avendano, Tomas Garcia del Rio, Santiago Toccalino) defeated Iconica (Maureen Brennan, Peke Gonzalez, Sebastian Merlos, Dylan Rossiter) 7-4 in a defensive battle at the International Polo Club Palm Beach in Wellington, Florida.
With both teams making their debut in the 2019 season, it was La Indiana that took advantage of a foul-ridden Coca-Cola team that committed 14 fouls along with three yellow cards. Led by the seven-goal performance from Facundo Obregon, La Indiana were able to consistently pressure the Coca-Cola defense, thanks to the active effort of Toly Ulloa in the middle of the game. Despite outshooting La Indiana 17-9, Coca-Cola settled for difficult shots from distance, resulting in inaccurate 35% shooting in the defeat. In a game that came down to the final minutes, the one-goal advantage for La Indiana on handicap proved to be the difference in the 10-9 victory.
In the opening chukker, both teams traded a penalty goal, with no other offense created thanks to a back and forth game that saw the ball constantly change possession. After back-to-back goals from Facundo Obregon to begin the second chukker gave La Indiana the 4-1 lead, Coca-Cola quickly responded with a Penalty 1 goal in favor of Julian de Lusarreta to bring his team back within one. Coca-Cola continued to produce more offensive chances than La Indiana in the half, but their foul trouble prevented them from taking the lead, as La Indiana received four penalties in the third chukker. Responsible for La Indiana goals, Obregon scored his fifth goal of the half to give La Indiana the 6-5 lead at halftime.
Coca-Cola continued to shoot heavily at the La Indiana goal but shot just one for five in the fourth chukker, with Wesley Finlayson the only player to find the goal for his first goal of the game. The frustration of Coca-Cola began to show with a yellow card as Jeff Hall pushed La Indiana back into the lead with two goals. The missed attempts from Coca-Cola along with the penalty shooting for La Indiana led to the result of the game, with Obregon adding two more goals in the fifth chukker, including his fourth penalty conversion. Trailing by three goals, Coca-Cola made a late push with Sugar Erksine and Julian de Lusarreta scoring a goal each to raise the excitement of the crowd and bring Coca-Cola within one goal. Their attempt at a comeback was put in jeopardy after two yellow cards for de Lusarreta sent him off, leaving Coca-Cola to just three players. Down a player, Coca-Cola was unable to score again, as La Indiana held on for the 10-9 victory to open their play in the Ylvisaker Cup.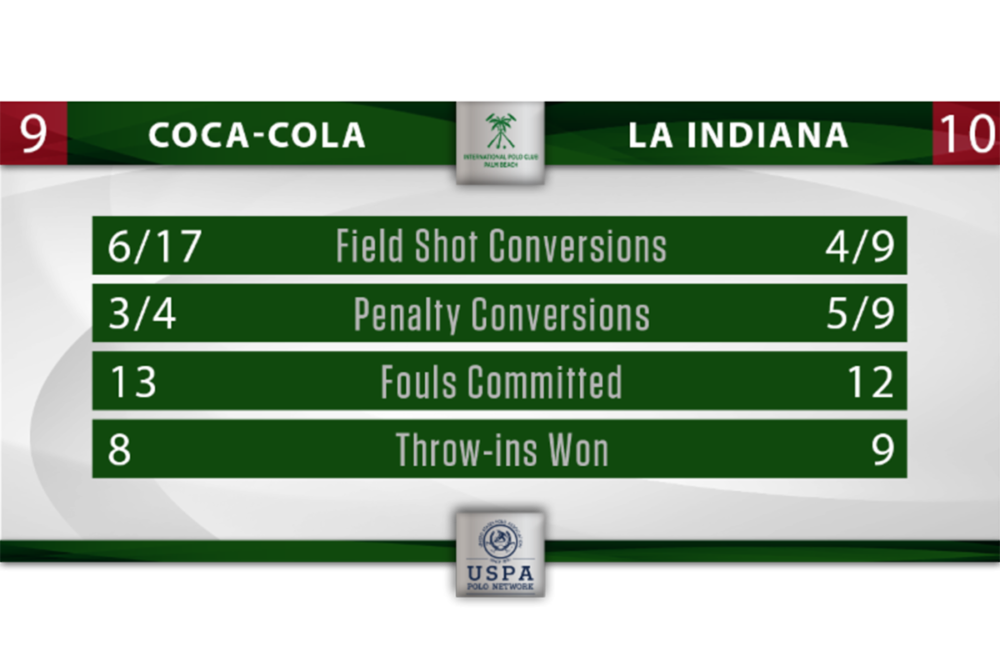 Earlier in the day Patagones defeated Iconica 7-4 in a defensive game that saw just three combined goals in the second half. Patagones raced out to an early lead thanks to the passing combination of Tomas Garcia del Rio to Benjamin Avendano. Scoring four goals in the opening half, Benjamin Avendano made his impact felt on the game, being an active receiver downfield and finishing with accuracy, forcing Iconica to play from behind throughout the game. Holding a 6-2 lead at halftime, the defensive performance of Patagones was a factor, with Iconica's only two goals coming from field goals off the mallets of Peke Gonzalez and Dylan Rossiter.
With Iconica looking to make their way back in the game, their inability to maintain possession during their attacks kept them from stringing together a run of goals. Patagones also were disciplined throughout the game, committing just five total fouls, with none resulting in a penalty shot attempt, forcing Iconica to generate their offense from the field. With possession continually changing hands, neither team made a run in the second half, resulting in a low-scoring defensive battle that favored the strong start from Patagones. Holding a three-goal lead, Patagones kept Iconica off the scoresheet in the final chukker to claim the 7-4 victory.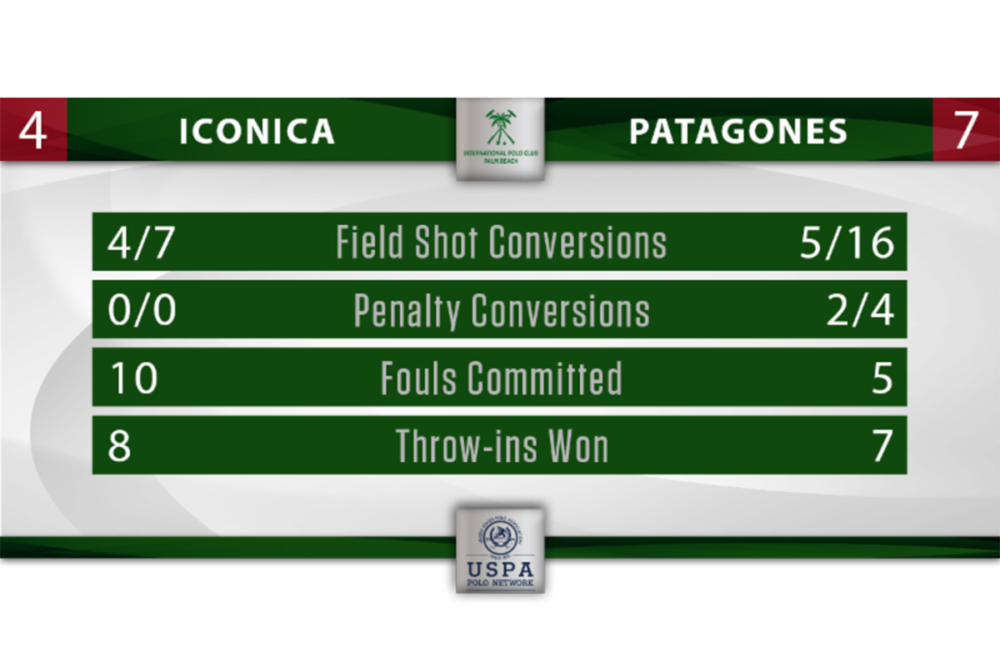 Butler Handicap
The Butler Handicap Cup will be awarded to the winners of the Sunday, January 27, featured 3:00pm Ylvisaker Cup match as an enhancement to the Ylvisaker Cup tournament. The Butler Handicap traditionally served as a handicap tournament for teams entering the U.S. Open Polo Championship® and became an important USPA event for over six decades, showcasing premier players, horses and polo club venues. During that time span, just about every notable player and who's who of Hall of Famers competed for the prestigious title. Established at Oak Brook Polo Club (Oak Brook, Illinois) in 1954 in honor of Paul Butler, his litany of polo accomplishments, including 29 dedicated years on the USPA Board of Governors, warranted a commemorative tournament. In 2014, due to the combined efforts of the Butler family and the USPA, the historic Butler Handicap was officially adopted as a national USPA event.
Oak Brook Polo Club played a large role in Bill Ylvisaker's polo career and he was very close friends with Paul Butler. The Butler family is proud to present their trophy in honor of Paul Butler and Bill Ylvisaker to the winners of this weekend's featured match.
Photo credit to Alex Pacheco/International Polo Club Palm Beach. Graphics by International Polo Academy.