The Butler Handicap traditionally served as a handicap tournament for teams entering the U.S. Open Polo Championship® and became an important USPA event for over six decades, showcasing premier players, horses and polo club venues. During that time span, just about every notable player and who's who of Hall of Famers competed for the prestigious title. Established in 1954 in honor of Paul Butler, in his early 60s at the time, his litany of polo accomplishments, including 29 dedicated years on the United States Polo Association Board of Governors, warranted a commemorative tournament.
The tournament was only played a handful of times in the past twenty years, often as a subsidiary for the USPA Gold Cup®. In 2014, due to the combined efforts of the Butler family and the USPA, the historic Butler Handicap was officially adopted as a national USPA event. Thanks to the efforts put forth by Greenwich Polo Club in Greenwich, Connecticut, the Butler Handicap has since gained back its initial prestige and was incorporated into the 26-goal lineup this year at the International Polo Club Palm Beach (IPC) in Wellington, Florida.
On April 2, Coca-Cola and Flexjet entered the IPC Engel & Völkers Field 1 ready to prove they had what it took to claim the historic Butler Handicap title. Coca-Cola arrived on the field for the second consecutive Sunday match, while the Butler Handicap Final marked Flexjet's 2017 winter debut at IPC.
Eager to get a jump on the seasoned Coca-Cola team, Flexjet's Gonzalito Pieres quickly opened up the scoring on a fast breakaway to goal. He was countered by back-to-back goals from Gillian Johnston of Coca-Cola. The two teams each contributed a goal in the remaining minutes of the first, ending with Coca-Cola on top by one 3-2. The remainder of the half was not as open and fast as the first chukker. Many fouls were called and several opportunities on goal were missed by both teams. Despite the stop-and-go playing, the score remained relatively even with Coca-Cola holding on to their early lead 6-5.
A determined Flexjet came back in the second half with a goal in the first minute of fourth chukker play from Rodrigo Andrade. Coca-Cola's Miguel Novillo Astrada instantly replied with a 70-yard drive to goal, his fourth of the game, to keep the narrow lead. A penalty 2 conversion from Julio Arellano widened the Coca-Cola lead 8-6 with two chukkers left in regulation play.
Despite strong playing from Flexjet, Coca-Cola's teamwork proved an unstoppable force. Johnston picked up her fourth goal of the day and Arellano followed up with a converted penalty 2. What kept Flexjet in the game was the 100% accuracy of game high-scorer Pieres on his penalty 2 shots. He added his third to the board at the end of the fifth to stay in the contest for the historic silver cup.
Coca-Cola, having held the lead from the start, began the final chukker 10-8 over Flexjet. It was anyone's game however, and Flexjet kept the pressure on. Flexjet was awarded their fourth penalty 2 of the game, which was again converted by Pieres giving him seven goals on the day, to bring his team within one of Coca-Cola. Powerhouse Johnston kept her team out of danger with an impressive run to goal on her grey mare Luna who was later awarded Best Playing Pony. "We bred her at our farm, her mother is Lombada who was a New Zealand mare that Javier Novillo Astrada used to play, and her father is a Thoroughbred named Truman," said Johnston "I have played her the last two or three years here, she is great!" Coca-Cola's amazing teamwork did not cease and Johnston's goal was followed up by an amazing nearside neckshot to goal from Arellano.

"This Flexjet team today was a very strong combination. Our plan going in was to mark up very tight, man on man and move the ball a lot. We wanted to open it up, and we did in some spurts, but they stayed on us. In the last chukker, we were able to pull ahead and Gillian did great." – Julio Arellano
In the lead by three, Coca-Cola kept Flexjet at bay securing their first 26-goal win of the season and the 2018 Butler Handicap title with a final score 12-9.
Gillian Johnston was awarded Most Valuable Player, after an impressive five field goals. Her 11-year old gray mare Luna owned by G-String Polo Ponies walked back to the trailer wearing the green and white Best Playing Pony blanket. Jorie Butler Kent, daughter of Paul Butler was on site to present the awards. She helped the Coca-Cola players pour their signature drink into the beautiful silver bowl. Much like many historic teams from years past with champagne, the crowd cheered as each player drank Coca-Cola from the Butler Handicap Cup.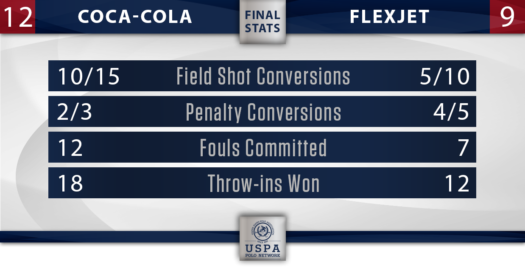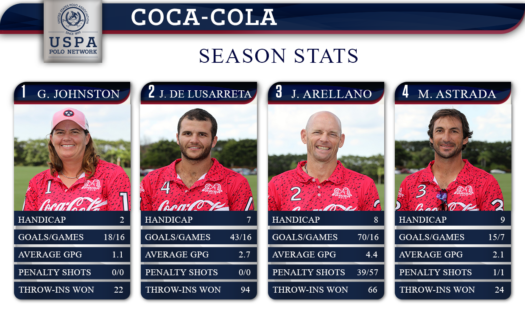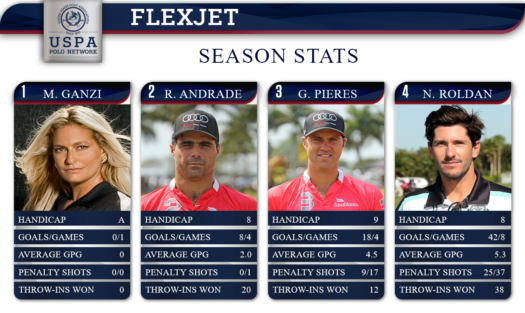 All photos ©David Lominska/International Polo Club