Driven by an ambitious desire to sweep the Triple Crown of Polo™, powerhouse Valiente rode for the second consecutive year into the USPA Gold Cup® Final on Sunday, April 1, at the International Polo Club Palm Beach in Wellington, Florida. Untouchable throughout tournament play, Valiente faced a strong offensive drive by Flexjet in their second matchup, but ultimately defended their title 12-11.
Claiming two immediate goals in the first, Facundo Pieres set the pace for a fast, competitive final. As the first half progressed, both teams relentlessly traded goals back and forth, Flexjet strategically taking every available opportunity to intercept the ball and capitalize from the penalty line. Demonstrating excellent control, Adolfo Cambiaso propelled the ball downfield, expertly weaving it between Flexjet's defenders to pick up his first goal in the second. Staying in position and making key plays happen, Valiente's optimal teamwork secured two additional goals, keeping them ahead by two at the end of the second. "I was mainly playing back on Flexjet's hit-ins and trying to push forward on our plays," Tommy Beresford revealed. "I tried to make space for Adolfo and Facundo and since those two are the best they can usually pull through with that." Missing several opportunities to score, Flexjet allowed Cambiaso to get on another breakaway to goal, doubling the scoreboard. Just before Facundo Pieres could score another goal, Rodrigo De Andrade managed to steal the ball and move it downfield, ending the half 6-3 in favor of Valiente.
Benefiting from gaining possession from the initial throw-in at the start of the fourth, Flexjet's De Andrade made an effective team play with Nico Pieres for a fast field goal. As both teams began to play a more open style of polo, the goals also began to stack up with increasing speed. Valiente acted quickly in retaliation with a goal each by Cambiaso and Beresford, preventing Flexjet from making up any ground and maintaining a three-goal lead. Explosive in the fifth, Nico Pieres played his strongest chukker yet, hitting a giant neckshot to goal and converting a Penalty 4 and 6 in an effort to derail Valiente in the second half. Consistent throughout, Valiente anticipated the plays and followed through with their team strategy, using Beresford to protect Facundo Pieres and allowing him to have the open shots to goal.
Valiente still in the lead 11-9 as the final chukker began, Cambiaso grabbed his fifth goal of the game, determined to prevent another uprising from Flexjet. Charging up and down the field, De Andrade finally managed to score two consecutive goals bringing his team within one, but the 30-second horn ended Flexjet's final drive. Valiente claimed their second consecutive USPA Gold Cup® with a final score of 12-11.
Responsible for seven out of 11 goals, five from the penalty line and two from the field, Nico Pieres was named Most Valuable Player. Best Playing Pony honors were awarded to Macarena, a grey mare owned by Mariano Gonzalez and played by Adolfo Cambiaso in the third chukker. "Macarena is an amazing, fantastic horse that can run as long as I need her to," Cambiaso said. "She will rest for a bit now then go to Argentina to play the Argentine Open with me."
Looking forward to participating in the prestigious U.S. Open Polo Championship®, Bob Jornayvaz recognizes the steep competition Valiente will have to face in the final 26-goal tournament of the season. "Now the hard work begins, we can't lose focus so we need to stay healthy and keep the horses healthy" Jornayvaz said. "You have to go out on the field with a game plan, execute it, and stay disciplined. Flexjet came within one goal and that's when we need to fall back on our game plan because that's what a good organization is all about."
The USPA Polo Network on uspolo.org will livestream all games of the U.S. Open Polo Championship®, the final leg of the Triple Crown of Polo, beginning Wednesday, April 4, at 4:00pm ET.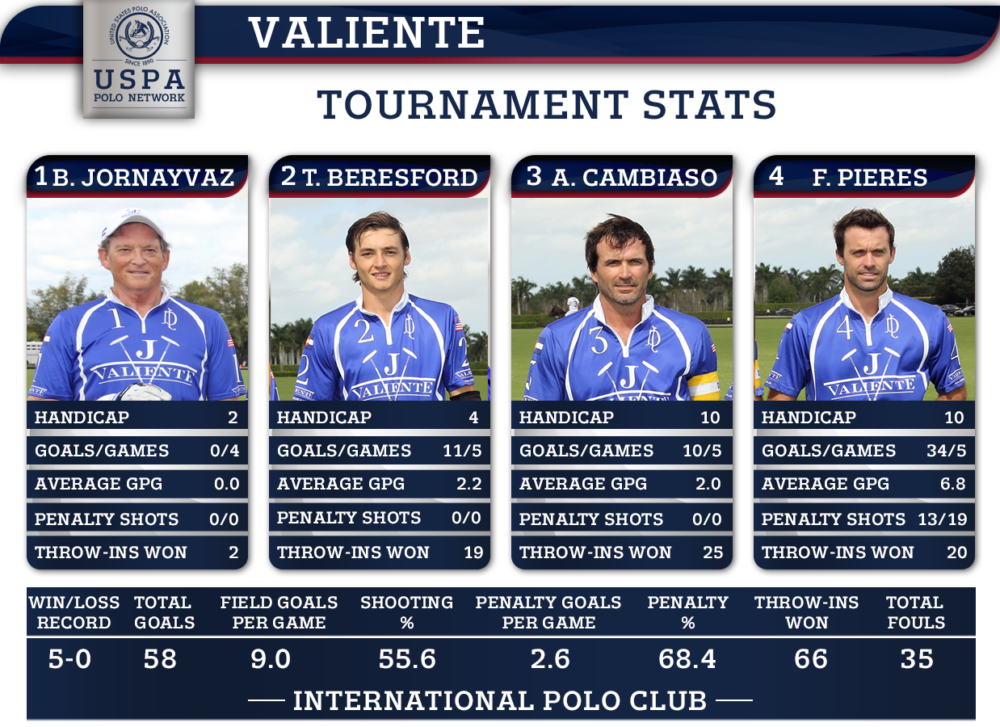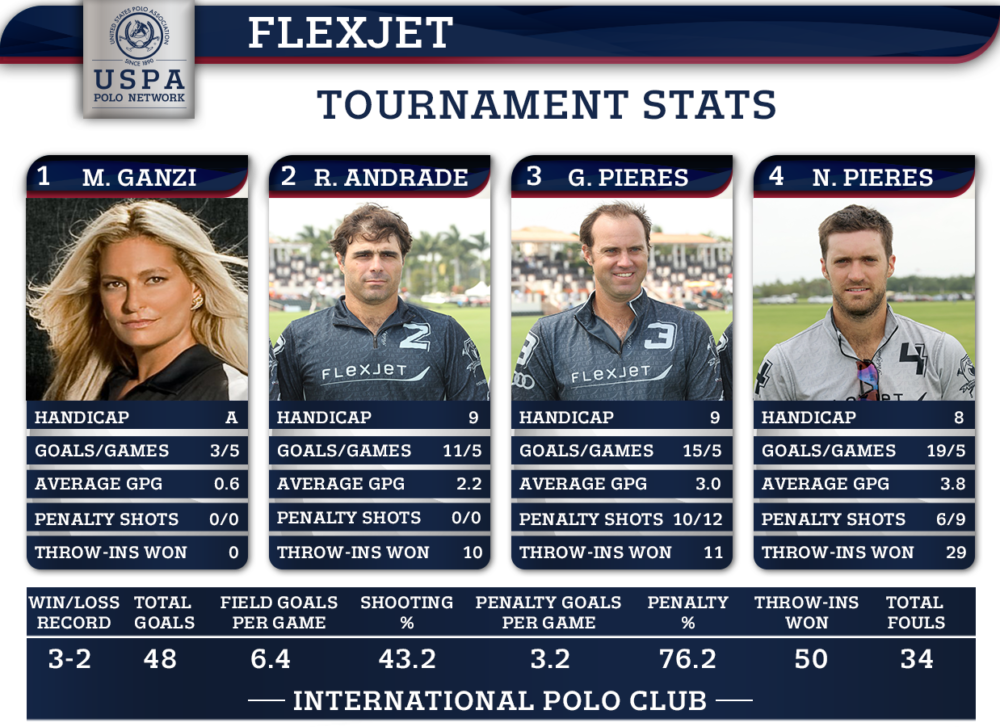 All photos ©David Lominska/www.polographics.com