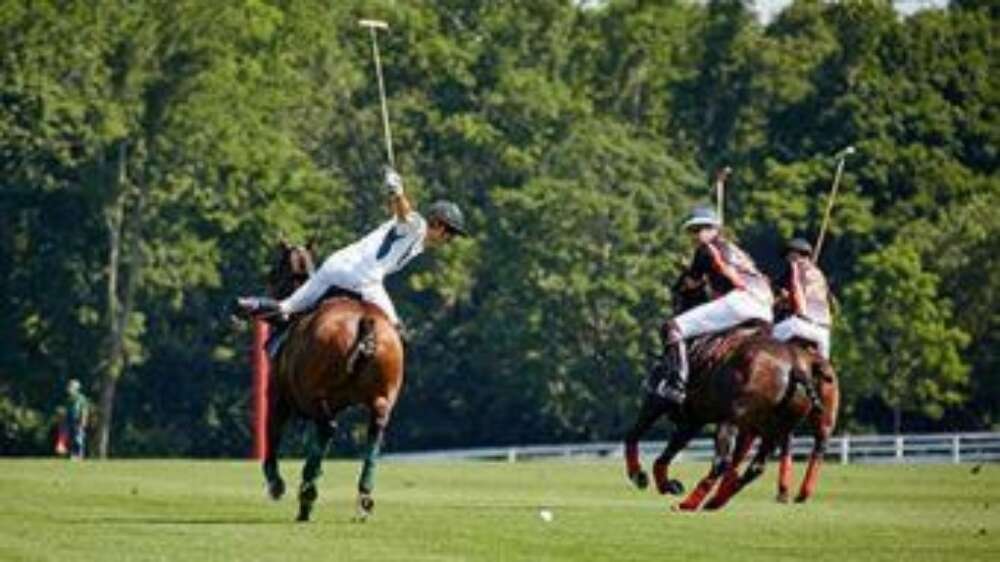 In 1954 the U.S. Open Polo Championship® changed venues from the Meadow Brook Club on Long Island, New York, to the Oak Brook Polo Club in Illinois. On the outskirts of Chicago, Oak Brook was an outstanding polo and golf complex built by Paul Butler. Housed on thousands of acres, in its heyday, Oak Brook boasted 13 polo fields and stabling for 400 horses. It was in this same year, 1954, that the Butler Handicap was established. Named in honor of Paul Butler, in his early 60s at the time, his litany of polo accomplishments, including 29 dedicated years on the USPA Board of Governors, warranted a commemorative tournament.

Centrality was the primary benefit of Oak Brook: Situated in the middle of the country, shipping was less of a concern, and consequently more teams were drawn to Chicago for the U.S. Open. According to Jorie Butler Kent, daughter of Paul Butler and former manager of Oak Brook for 13 years, "The most teams that we ever had was actually during the time that I was running the polo at Oak Brook for the family, and we had 13 teams in the U.S. Open, which was a huge number, and a number of years we had twelve, but we usually had nine or ten. It was always a very, very sought-after tournament." She continued to explain that "some teams would go out in the first round," due in large part to the many teams in the tournament. Paul Butler saw this as an opportunity to capitalize on both players and spectators traveling to the area.|
Since teams traveled a big distance to play in the U.S. Open, he proposed another tournament, to run concurrently, for those teams knocked out of the prestigious tournament. In this way, the Butler Handicap maintained a competitive and high standard of play equal to the U.S. Open. As the tournament was Mr. Butler's idea, it was aptly named in his honor. The Butler Handicap, therefore, traditionally served as a handicap tournament for teams entering the U.S. Open and became an important USPA event for over six decades, showcasing premier players, horses and polo club venues. During that time span, just about every notable player and who's who of Hall of Famers competed for the prestigious title.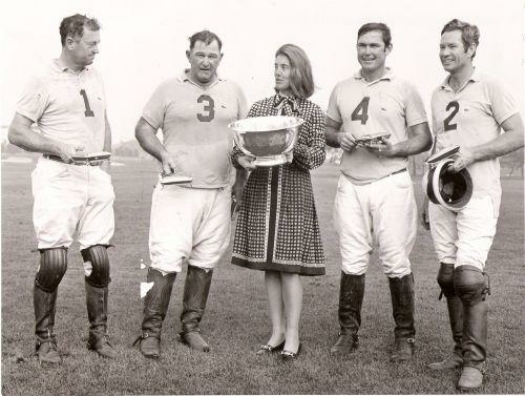 1971 Butler Handicap Winners, Tulsa Greenhill (Left to Right: James "Hap" Sharp, Harold Barry, Mrs. Jorie Butler Kent, Joe Barry, Allan Scherer)
In its inaugural year, the Butler was won by the CCC-Meadow Brook team, comprised of players Don Beveridge, G.H. "Pete" Bostwick, Alan Corey Jr. and Harold Barry. This same team took the Monty Waterbury Trophy and the U.S. Open, rounding out an exciting triple crown.
In 1963 the tournament was won by British international team Cowdray Park, whose members included Lord Patrick Beresford, Paul Withers, Sinclair Hill and Major Ronald Ferguson. According to Horace Laffaye in his book "The Evolution of Polo," "This success brought about a spate of frenzy in the British press. The normally staid Times reported, 'Let the flags fly high at Midhurst tonight and bells ring out at Willow Tree, N.S.W., for this week Australian Sinclair Hill and his team have written the name of Cowdray Park into American history. They have played and defeated two of the best 25-goal teams in the U.S. and in the manner of their victory have earned respect for British polo overseas.'"
The tournament was played every year until 1966, with a few exceptions, and after a brief hiatus was played uninterrupted from 1971-1990 almost exclusively at the Oak Brook Polo Club. The 1971 Butler Handicap showcased an exciting underdog win from 23-goal team Tulsa Greenhill (James R. Sharp, Allan D. Scherer, Harold Barry and Joe Barry) against 25-goal Houston-Oak Brook. The 1972 Blue Book reported on the exciting match:
Down 8 to 4 with but one period to play most folks figured it was just a question of how bad Houston-Oak Brook would beat [Tulsa] Greenhill. … With the throwin to start the final frame [Tulsa] Greenhill hit the ground running. First Harold, then Hap laced home a goal to draw within two. Scherer slammed one home midway through the chukker and if you turned to tell your neighbor it was getting interesting, you missed Harold picking up a pass from Joe to tie the score at 8 all. Tie the score? Yep, down by a bunch with 7½ minutes of polo left, [Tulsa] Greenhill had made it a new ball game with three minutes still on the clock. Four goals in four and a half minutes would make an efficiency expert sigh with the utmost pleasure and ask for a raise.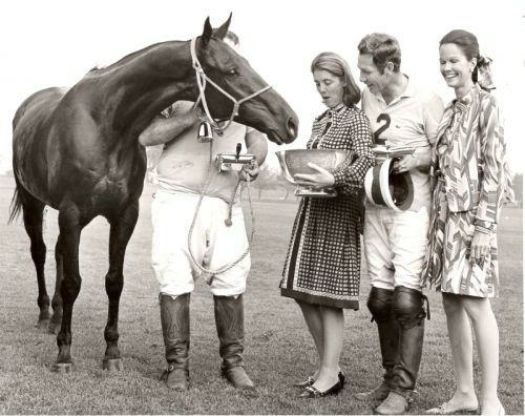 1971 Butler Handicap BPP "Jun Cal" Played and Owned by Harold Barry. L to R: Harold Barry, Mrs. Jorie Butler Kent, Allan Schrer and Maggy Schrer.
The riches to rags scheme of things didn't set too well with the Houston-Oak Brook lads but try as they might they couldn't find the rabbit's foot and 15 seconds into the 45 second overtime Scherer swatted through the winning goal to make [Tulsa] Greenhill Butler Handicap winners and the comeback kids of the year.
Oak Brook remained the mecca of polo until 1978, when the U.S. Open found a new home at the Retama Polo Center in San Antonio, Texas.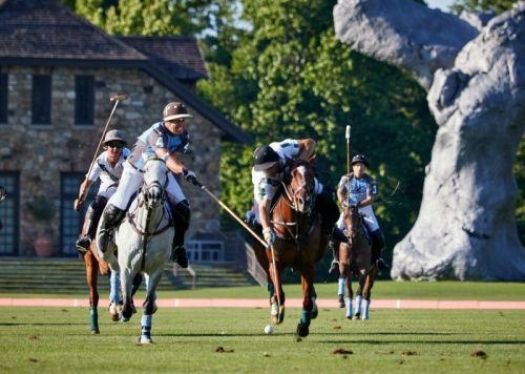 In the late '90s and early 2000s the Butler was played only a handful of times: 1995, 2006 and 2007. In more recent times (2008-2014) the Butler served as a subsidiary to the USPA Gold Cup®, one of two 26-goal tournaments leading up to the U.S. Open Polo Championship®, hosted at the International Polo Club Palm Beach in Wellington, Florida. Mrs. Butler Kent explained her family's frustration at the decline of the tournament, "I was not very happy with it being a subsidiary for the Gold Cup, because I think it reduced its importance and position. It has a great history, and it has a lot of great names on it, and so I hope it will come back and be used the way it should be used."
In 2014, due to the combined efforts of the Butler family and the United States Polo Association, the historic Butler Handicap was officially adopted as a national USPA event. In July of last year, the Greenwich Polo Club hosted the 20-goal tournament in Greenwich, Connecticut, in a concerted effort with the United States Polo Association to re-launch and better memorialize the national tournament. "It's not exactly the way that daddy designed it, but it will have its own status," said Butler Kent.
In last year's final, White Birch (Santino Magrini, Hilario Ulloa, Mariano Aguerre and Peter Brant) defeated Airstream 16-9. "It was an honor to play in a tournament of this level in the Northeast with the history and tradition of the Butler Handicap," said MVP Mariano Aguerre. "Both teams played very well, and it was without a doubt the best match of the season for White Birch."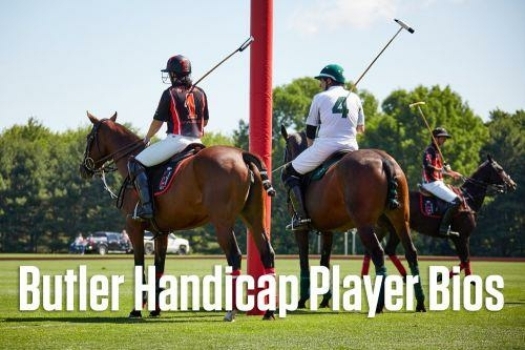 ROSTERS
White Birch Santino Magrini (1) Hilario Ulloa (9) Mariano Aguerre (9) Peter Brant (1)Airstream Benjamin Avendano (A) Guillermo Aguero (6) Matias Magrini (8) Kris Kampsen (6)Postage Stamp Farm Annabelle Gundlach (A) Nick Manifold (5) Brandon Phillips (5) Joao Paulo Ganon (7)Northwood Louis Bacon (A) Gonzalo Garcia del Rio (5) Tomas Garcia del Rio (8) Mariano Gonzalez (7)Tupungato Luis Rinaldini (A) Juan Martin Zubia (5) Naco Taverna (6) Tommy Biddle (5)
SCHEDULE
Sunday, June 26 White Birch def. Tupungato (14-11) Airstream def. Postage Stamp (14-6)Wednesday, June 29 Northwood def. Postage Stamp (14-12)Thursday, June 30 Airstream def. Tupungato (14-11)Sunday, July 3 By - WeekThursday, July 7 Tupungato def. Postage Stamp (10-9) White Birch def. Northwood (8-4)Sunday, July 10 White Birch def. Airstream (9-7) 3:00pm ET - Tupungato vs. NorthwoodWednesday, July 13th 2:00pm ET - Northwood vs. Airstream White Birch vs. Postage StampSunday, July 17 10:00am ET - Subsidiary Round Robin 3:00PM ET- Finals