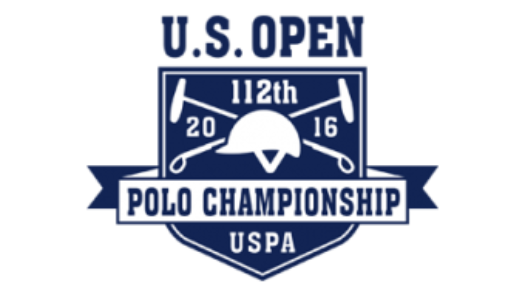 The 112th USPA U.S. Open Polo Championship® begins, April 2, at the International Polo Club Palm Beach (IPC). Eight teams will compete for three weeks, culminating with the final on Sunday, April 24.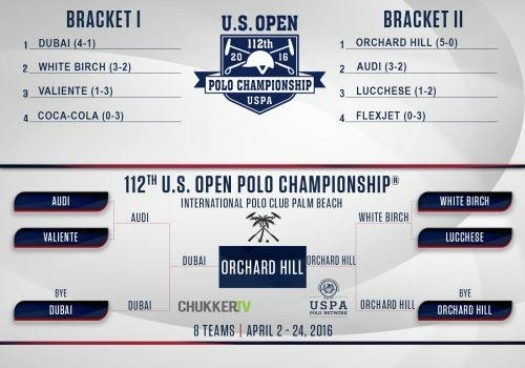 The most prestigious tournament in the United States, the U.S. Open attracts the top players and teams in the world. The Championship is the final leg of the 26-goal tournaments held during the Florida High-Goal Winter Season.
While difficult to imagine today, this grand tournament had less than auspicious beginnings. The U.S. Open was originally conceived as a non-handicapped alternative to the far more prestigious Senior Championship tournament. The first U.S. Open had only two teams, the Wanderers and the Freebooters. It was held at Van Cortlandt Park in the Bronx borough of New York City. Four 15-minute chukkers were played, with a seven-minute break between each chukker.
After the inaugural U.S. Open in 1904, the tournament was not played again until 1910, when it grew to include five teams. It resumed at Narragansett Pier, where it was played for several years before relocating to what was to become its longtime home, Meadowbrook Polo Club. In 1954 the U.S. Open moved to Oak Brook, where it remained for 25 years. It then went to Retama for eight years. In the late 1980s and into the 1990s the tournament circulated among several clubs throughout the United States including Indio, Lexington, Palm Beach and Royal Palm.
In 2004, on the 100th anniversary of the tournament, the U.S. Open relocated to IPC, where it has been held ever since.


ABOUT THE TEAMS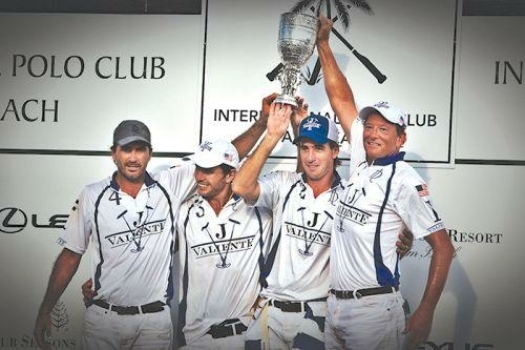 This year Valiente returns to IPC as the defending U.S. Open Champion, having defeated Orchard Hill in the 2015 final. Other previous winners competing this year are: Coca-Cola (2002), White Birch (2005) and Audi (2009). White Birch is back at IPC for the first time since its 2005 victory, with veteran player Peter Brant.
Valiente's lineup is somewhat different from last year. Adolfo Cambiaso and Alejo Taranco are playing for Dubai, a new team this high-goal season at IPC. Returning Orchard Hill players are Steve Van Andel, and Facundo Pieres.
Audi

Marc Ganzi 1

Rodrigo Andrade 9

Gonzalo Pieres 9

Freddie Mannix 7

Lucchese

John Muse A

Magoo Laprida 8

Nico Pieres 8

Sapo Caset 10




Coca Cola

Gillian Johnston 2

Sugar Erskine 7

Julio Arellano 8

Miguel Astrada 9




Orchard Hill

Steve Van Andel A

Facundo Pieres 10

Julian De Lusarreta 6

Juan Martin Nero 10




Dubai

Rashid Albwardy 2

Alejo Taranco 6

Facundo Sola 8

Adolfo Cambiaso 10




Valiente

Bob Jornayvaz 2

Santi Torres 7

Alfredo Cappella 9

Tomas Garcia del Rio 8




Flex Jet

Melissa Ganzi A

Agustin Merlos 9T

Sebastian Merlos 9

Nic Roldan 8




White Birch

Mariano Obregon 7

Hilario Ulloa 9

Mariano Aguerre 9

Peter Brant 1


U.S. OPEN SCHEDULE
Saturday, April 2
10am ET Lucchese def. FlexJet (13-11) 5pm ET Dubai def. Coca Cola (14-8)
Sunday, April 3
12pm ET Orchard Hill def. Audi (12-10) 3pm ET White Birch def. Valiente (11-7)
Saturday, April 9
10am ET White Birch vs. Coca Cola (Bracket I) 5pm ET Valiente vs. Dubai (Bracket I)
Sunday, April 10
12pm ET FlexJet vs. Audi (Bracket II) 3pm ET Lucchese vs. Orchard Hill (Bracket II)
Wednesday, April 13
10am ET White Birch vs. Dubai (Bracket I) 4pm ET Valiente vs. Coca Cola (Bracket I)
Thursday, April 14*
10am ET Lucchese vs. Audi (Bracket II) 4pm ET FlexJet vs. Orchard Hill (Bracket II)
Sunday, April 17
Quarterfinals 12pm ET White Birch vs. Lucchese 3PM ET Audi vs. Valiente
Wednesday, April 20**
10:30am ET Semifinal 1: Dubai vs. Audi 4pm ET Semifinal 2: White Birch vs. Orchard Hill
Saturday, April 23
5pm ET Hall of Fame Cup Subsidiary- played on the Handicap (Fourth place teams in each bracket)
Sunday, April 24
3pm ET Final of the U.S. Open Polo Championship