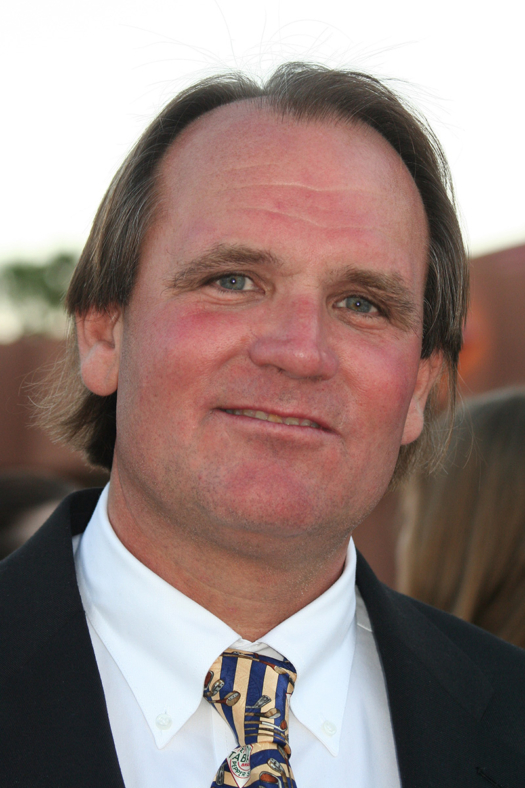 Starting upwards of 500 horses for a variety of disciplines ranging from polo, to eventing, and hunter jumpers, Midstates Circuit Governor Trey Schott has established himself as a "jack of all trades" over the course of his diverse equestrian career. A semi-retired equine veterinarian and former 5-goal professional polo player, Schott has shifted his focus to training and developing green horses alongside his son, Buck Schott, on their family operated River Mountain Farm (RMF) in Versailles, Kentucky, and RMF South in Sarasota, Florida. Schott is passing on his lifetime of knowledge of horse care and training to his son, Buck, who plans on carrying on the family polo tradition. "My days of seeking silver trophies and tournament wins are over," Schott, who played professionally for over 20 years, said with a laugh. "Now it's about finding and making the right horse and passing that on to Buck." Elected to serve his first term this year as Circuit Governor, Schott intends on giving back to the sport by facilitating and rejuvenating polo in the Midstates.
Growing up in an equestrian family, Schott started riding in western performance as a teenager before discovering his love for polo. "My grandfather and father were both involved in horses and my four older sisters competed with American Saddlebreds, but nobody in my family had roots in polo," Schott explained. On his father's Wesridge Farm in Cincinnati, Ohio, Schott learned to play polo at the age of 15 with his father's business partner, Bob Sieber and his three sons who stabled their horses at the facility. From there, he played and worked with his two younger brothers, Lou and Hal, and former Midstates Circuit Governor Mark Sedacca. "That was our summer team for three years before we all headed to college and summer pro jobs," Schott explained.
An avid horse lover, Schott knew from an early age he wanted to become an equine veterinarian and was determined to finance his own education after his family filed for bankruptcy when he was 18. "I pulled myself up by my bootstraps and I started my own business to put myself through undergrad at the University of Cincinnati and then Ohio State University College of Veterinary Medicine," Schott revealed. "During the school year, I worked as a dentist and a farrier at River Downs and Beulah Park and summers as a polo pro at Detroit Polo Club in Michigan. During undergrad, I took a semester off to spend nine months in Trenque Lauquen, Argentina, with Hector Barrantes, Cacho Merlos, and Gonzalo Pieres." Working hard to make his dream come true, Schott learned a variety of skills along the way and ultimately graduated with his DVM in 1981. Pursuing his career in both polo and veterinary medicine, Schott joined a practice in Lexington, Kentucky, where he specialized in Thoroughbred reproduction, farrier science, sport horses and lameness for over three decades. Now semi-retired from veterinary practice, Schott has more time to dedicate his focus to RMF's polo division.
The entire Schott family is immersed in horses. "My wife Elaine runs the hunter jumper division of RMF and we've owned and managed the farm ever since it opened it 1985," Schott said. "Her side of the family is a Midstates polo family (Strouss) with her father, uncles, and brother, Callan, all polo players." His daughter, Callie Schott, is following the path of her mother as a hunter jumper trainer and seasoned Grand Prix show jumper.
Schott is happy to share his love of the sport with his son, working alongside him at both their homebase in Kentucky and seasonally in Florida. Spending the winter season in Sarasota, Florida, Schott brings 25-30 horses down to RMF South from December until April, buying, training, and selling throughout the year. "Buck and I start the horses during the first year and Buck will take them on and finish them," Schott said. Having started in the sport himself over 10 years ago, Buck has grown up in polo, learning everything from horse care to training techniques from his father. "He's taught me how to be patient with green horses, educated me in farrier skills, dental work and basic vet care including administering all medications, suturing and stapling, bandaging techniques and preventative care."
Living and working in the hub of the racing industry, the father and son pair have had a large presence in the Retired Racehorse Project (RRP) Thoroughbred Makeover Polo Division hosted at the Kentucky Horse Park (KHP) in Lexington, Kentucky. Demonstrating the skills of repurposed off-the-track Thoroughbreds (OTTB) for new careers in polo, the Thoroughbred Makeover is a program Schott is passionate about, having competed for his fifth year this October. "I support and have taken horses from New Vocations and Maker's Mark Secretariat Center based at KHP, two organizations dedicated to racehorse adoption and reschooling," Schott said. "I think the Thoroughbred Makeover is a great program for retraining OTTB's and finding them new disciplines and new homes. Polo is definitely a great avenue for a second career." Participating in the Thoroughbred Makeover consecutively for the last three years, Buck Schott won his first year competing in 2016 on Pound Cake (Strong Angel), a mare repurposed from New Vocations. "It's not just an excellent program, but as a trainer, participating in the Thoroughbred Makeover forces you to buckle down and develop your horse to reach a certain point," Buck said. "Just by doing this competition the horse will be at least three months ahead of schedule for the winter season." Identifying the inherent strengths and suitability of the Thoroughbred horse, Trey Schott will continue to integrate promising young prospects into his training facility, producing quality ponies for the advancement of the sport.
Now concentrating his energy towards revitalizing the Midstates Circuit, Schott hopes to spark the circulation of players from club to club. Posing a challenge for the region, encompassing Kentucky, Ohio, Indiana, Michigan and part of Canada, is the relatively far distance between clubs and decreasing membership which has hindered travel across the circuit. "I want to see if we can start a new tournament series following the concept that we had in place 20 years ago," Schott said. "We had a host center and clubs would travel for one or two weekends to compete against each other. I'd like to use both Detroit Polo Club and Lexington Polo Association as host centers to get people to travel and replicate this in the summer." In addition to member clubs, Schott wants to generate the same emphasis on travel with the middle school league and interscholastic teams within the circuit.
Echoing his father's sentiments, Buck also expressed the need for the larger clubs in the Midstates to invite smaller clubs for a weekend of affordable polo. "If the host club makes it more appealing with reasonable green fees and economic stabling, then people will be much more likely to come," Buck said. "My dad usually has common sense and realistic ideas and I think the creation of tournament host clubs could be a much needed way to bring people and clubs together. We need to put the fun and friendship back into polo. In Sarasota and here in the Midstates, polo will thrive as a family tradition."
If you'd like to get in contact with Trey about your club he can be reached at rmfhorses@msn.com.