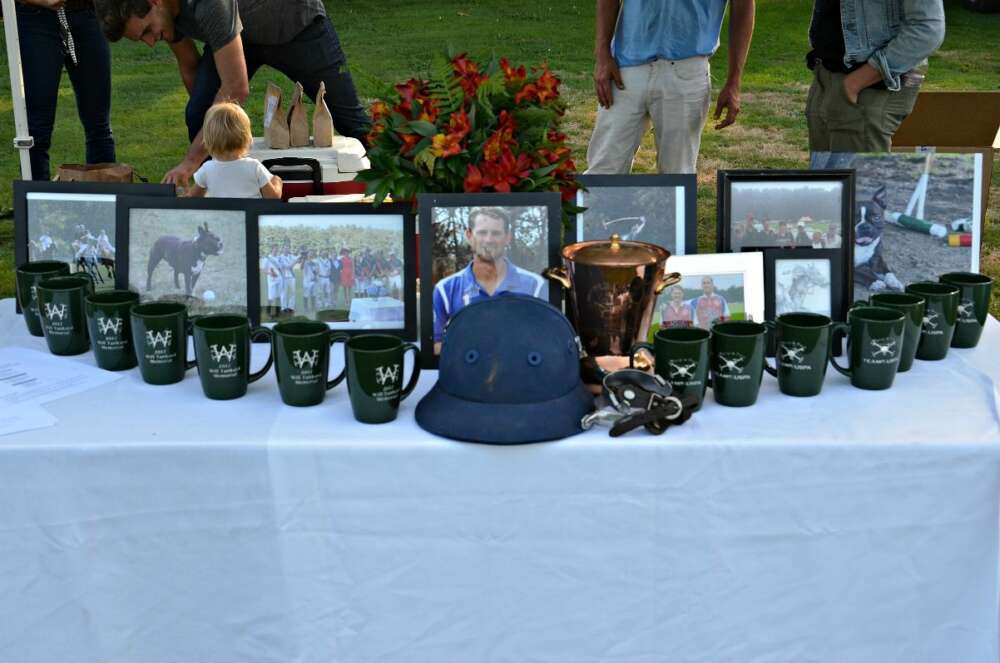 A great day of celebration for a great man.
The Third Annual Will Tankard Memorial Tournament took place on August 26, at the Myopia Polo Club in Hamilton, Massachusetts. It was a gorgeous weekend for polo, as the summer temperatures cooled for a perfect afternoon of play on Winthrop Field. Three teams made up of friends who had all been touched by Will's incredible generosity and spirit, took to the field to honor his memory in the most appropriate way—by playing the sport he dedicated his life to pursuing. Not only did the players don green, gray and light blue jerseys with Will's polo brand, but many a spectating toddler played field side in their Tankard apparel. Friends and family traveled from all over the country to participate in a fantastic weekend of activities including honored guests, Cissie Snow, Will's mother, and his brother Jason along with Jason's 3-year-old daughter Kaya. Friday night kicked off with a barbecue at the Harvard Polo & Equestrian Center, followed by polo on Saturday and a beautiful dinner celebration hosted by Franz and Anne Colloredo-Mansfeld.
"Will was one of the most humble and genuine people I have ever known. He appreciated the simple things in life and pretty much always kept a good sense of humor, no matter the situation. He was a big part of the polo community here are at Myopia and so it was special to have so many of his 'Yankee' friends participating in the activities this weekend. We hope to honor him in a similar fashion year after year." – Nick Snow
Honoring Will's memory, his love of the sport and his willingness to always try something new, a few All Pro Polo League rules were adopted to open up the game with continuous flow under the supervision of Professional Umpire Sian Joseph. Texas Tech (Felipe Viana, Dave Strouss, Marion Dierickx, Phoebe Ingram, J Paul Meyer), Will's alma mater where he won the 2006 Men's National Intercollegiate Championship took on Nashville (Nick Snow, Franz Colloredo-Mansfeld, Annie Colloredo-Mansfeld, Crocker Snow, Whitney Ellis), his hometown, in the first game of the round-robin. Texas Tech then took on Aiken (Marcos Onetto, Stephen Burr, Phil Zocco, Cristina Fernandez), where Will bought a home and spent much of his time with girlfriend Samira Waernlund. Nashville took home the trophy, narrowly defeating Aiken by a single net goal. Nick and Amanda Snow fittingly donated a perpetual trophy for the occasion, a 2013 National Copper Cup trophy, awarded during a tournament which Snow and Tankard won together on two occasions in Aiken, South Carolina.
Samira, was unable to attend due to her new responsibilities as the Barn Manager and Head Groom for Adam Snow. Snow's horses were competing in the Pacific Coast Open over the weekend in Santa Barbara, California, under Restoration Hardware's Santi von Wernich.

"I know Will is somewhere, playing on that big field in the sky with Merlen, Teacup, and Red ready to go for their chukkers," Samira said. "Chewy sitting field side with her own personal tailgate spread all to herself, and Will, shredding like he always did. He would be proud to see his horses succeeding and his friends and family carrying on. It may take a great deal of time, and my memories of him will never fade, but with each moment of time it gets a little bit easier, I get a little bit stronger, and my memories begin to feel more like treasures rather than something I lost."