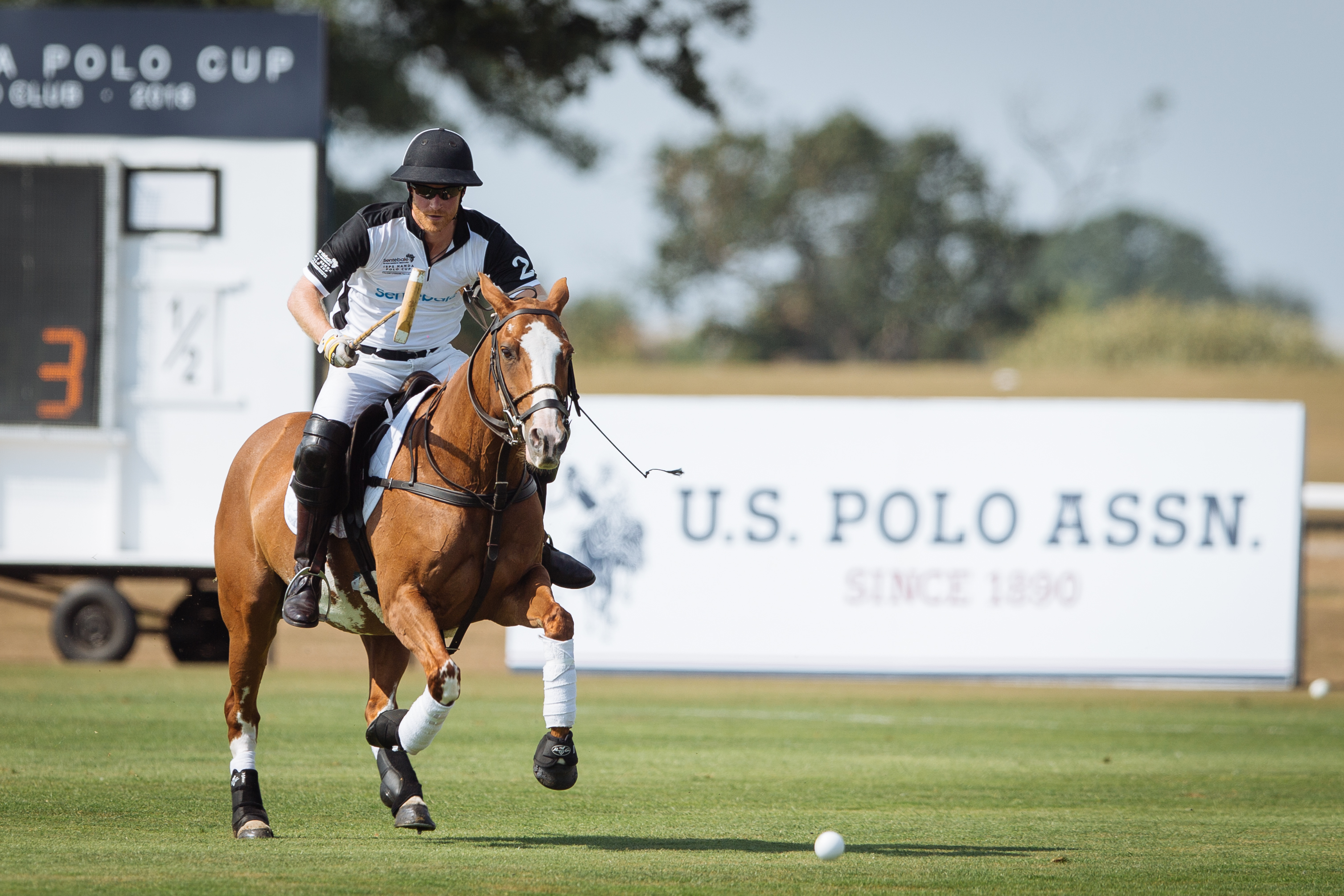 In one of the hottest British days on record, crowds gathered to watch Senteable's Co-Founding Patron The Duke of Sussex take home the Sentebale ISPS Handa Polo Cup today, alongside his teammates, including the charity's Ambassador, Nacho Figueras.
The trophy was presented by The Duchess of Sussex at the annual fundraising event, which supports the charity's work with young people affected by HIV/AIDS in southern Africa.
It has been a busy week for Sentebale; on Monday The Duke joined the charity's Youth Advocates from Lesotho and Botswana at the International AIDS Conference in Amsterdam, to advance the Let Youth Lead advocacy programme. Today, the Sentebale ISPS Handa Polo Cup, hosted by the Royal County of Berkshire Polo Club, brought a crowd of over 300 guests together to enjoy a day of polo and philanthropy in the scorching summer sun
It was a close match, culminating in a winning pass from The Duke of Sussex to Sentebale Ambassador Nacho Figueras, who scored the final goal. The score was 5 – 4, with the Royal Salute team, captained by Malcom Borwick, narrowly missing out on the coveted prize.
Sentebale's flagship fundraising event has been running since 2010, and has taken place in different locations around the world, from Singapore to South Africa. This is the first time since that the prestigious event has returned to the UK.
This is also the first year that ISPS Handa has assumed the role of title sponsor, having supported the event for a number of years. To date, the event has raised over £5 million for Sentebale's work providing care, education and psychosocial support for children and young people living with HIV in Lesotho and Botswana, where the burden of the HIV epidemic remains.
Since then, the programme has made significant progress calling global leaders to account, reflected in the roundtable led by Senteable Youth Advocates at AIDS2018 on Monday, where global key influential leaders in the HIV response made concrete commitments to better support the health of this generation.
At the same time, Sentebale's flagship programme of Saturday clubs and residential camps has also gone from strength to strength, supporting a cohort of over 4,000 10-19 year olds living with HIV across Lesotho and Botswana.
Enda Kenny, Former Prime Minister of Ireland and ISPS Handa Patron said "I am delighted to be supporting the Sentebale ISPS Handa Polo Cup. Sentebale plays a vital role in improving the lives of vulnerable young people – yet it is everyone's responsibility to contribute in whatever way we can."
Cathy Ferrier, CEO of Sentebale said, "We are so grateful to all our generous sponsors who continue to help youth affected by the HIV/AIDS epidemic in southern Africa through the Sentebale ISPS Handa Polo Cup. Adolescent deaths and new infections continue to rise amongst this age group in the region, so it is vital that we can continue to deliver much-needed care, education and psychosocial support, encouraging them to know and safely manage their HIV status.
"The funds raised through this annual flagship event remain key to Sentebale achieving our ambitious goals to reach as many young people as possible in southern Africa with the tools and knowledge they need to know and manage their HIV status. We are so grateful to ISPS Handa, our hosts the Royal County of Berkshire Polo Club, and to all of our fantastic sponsors for making this a day to remember; St. Regis Hotels & Resorts, Royal Salute, US Polo Assn, Table Talk, and Justerini & Brooks ."
For more information about Sentebale, please sign up to receive the charity's news at www.sentebale.org or follow the journey and be a part of the Sentebale ISPS Handa Polo Cup using the hashtag #SentebaleISPSPolo.