WELLINGTON, Fla. – April 11, 2016 - Audi took the win over Flexjet 11-7 and Orchard Hill remains undefeated (2-0) in the U.S. Open, defeating Lucchese 11-9 on Sunday, April 10, at the International Polo Club Palm Beach (IPC).




ORCHARD HILL EDGES OUT LUCCHESE 11-9
The game between Orchard Hill and Lucchese showed what can happen when you have three 10-goalers on the field— particularly when their last names are Pieres, Nero and Caset. Both teams were 1-0 going into the game, which ended 11-9 for Orchard Hill. They left it all on the field in one of the most exciting and well-executed matchups of the U.S. Open, thus far. Julian de Lusarreta was named Most Valuable Player, and "Modelo," played by Sapo Caset, was Best Playing Pony.
A shift in positioning for Orchard Hill saw Facundo Pieres wearing No. 1 and patron Steve Van Andel in No. 4. When asked, Pieres simply stated the numbers on their backs were immaterial to how the game played out. "Juan Martin plays much more defensively than I do. Having him on the defense gives me a lot of space to go forward and try to play my game," said Pieres. "That's why I was trying to play a little more in front. Steve always plays back. We just changed shirts. It was nothing more than that."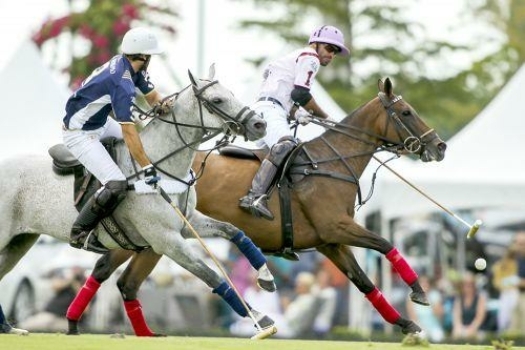 Magoo Laprida and Facundo Pieres. Photo: David Lominska/Polographics.com
Yet it made for some interesting dynamics. Orchard Hill got off to "a bit of a slow start," as Van Andel noted. Lucchese launched the scoring with two Caset field goals in the first chukker, countered by a goal on a penalty three by Pieres. Caset scored all but two of his seven total goals from the field, while Pieres made all but one of his six from the penalty line. The two carried on a running battle throughout. At the end of the second chukker a penalty one for Orchard Hill tied the game at 3. Caset poured it on in the third to give Lucchese a 7-5 lead, but Orchard Hill whittled away at Lucchese's advantage to a single goal in the fourth. A field goal by Nero in the final chukker broke the 9-all tie. With 38 seconds until the warning horn, Caset snatched the ball out of the air to come within a breath of pulling Lucchese back from the brink. The play fell apart, however, and the whistle sounded. Pieres sealed the win on a penalty four.
Calling Lucchese a "tough, tough team," a relieved Van Andel said that in the first part of the game, "We couldn't quite get some of the goals and the throw-ins, so we shifted around a little in the second half. When you have Nero and Pieres on the offense with Negro (de Lusarreta), that really helped our game. We all stepped it up, but still, it was so close at the very end."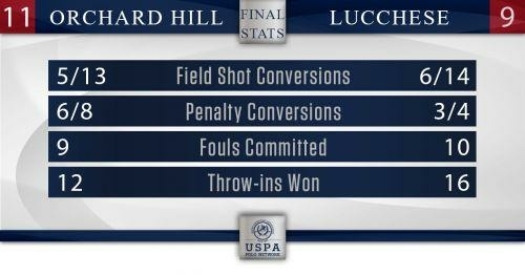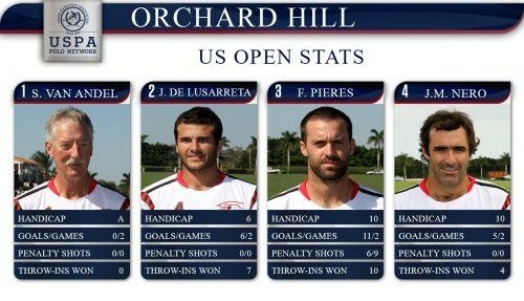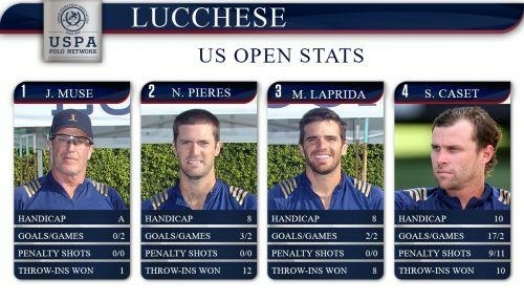 AUDI CRUISES PAST FLEXJET 11-7
Audi set the tone early with a commanding three-goal lead, as patron Marc Ganzi scored the first goal and Gonzalito Pieres added two more. Flexjet fought back in the second chukker and kept Audi at bay, with Agustin Merlos tying the game at 3. Each team contributed in the third, with both Sebastian Merlos and Marc Ganzi scoring goals to retie the game at 4. Pieres scored on a penalty two to give Audi a slight lead going into halftime (5-4).
The twist came in the fourth, when Audi exploded in a scoring frenzy. Three Audi players slammed in four goals total to stop Flexjet in their tracks and take a 9-4 lead. Two were stunning field goals by Rodrigo Andrade. He carried the ball almost the full length of the field to goal and then scored again off a perfectly calibrated pass from Pieres, who delivered the ball to him from midfield.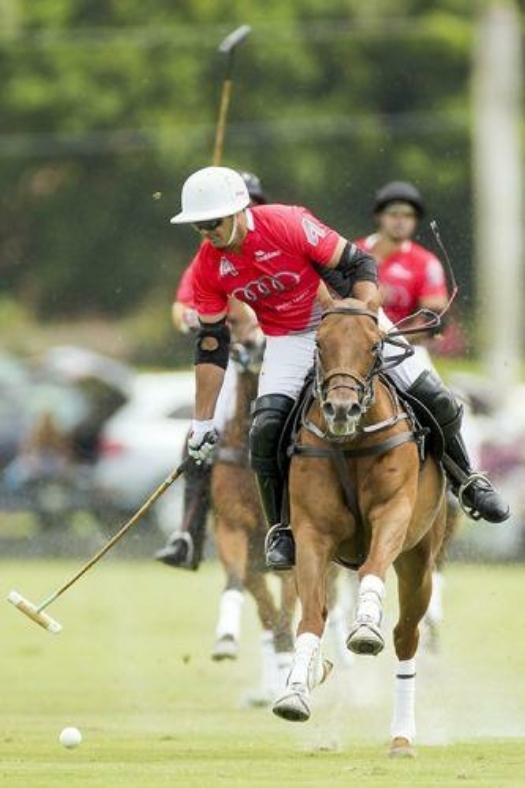 "We had a very, very good fourth chukker," said an enthusiastic Fred Mannix. That had been the plan all along. "We all made a list to use our fresh, top horses in the fourth chukker. The other team had good horses, too. They are a good team, but in that chukker we had a little bit more power in the horses. We just did it. We decided let's do it, to stick our neck out, no more second chances. Let's finish, and we did. It was an important game to win, any U.S. Open game is important."
After Audi's blazing fourth chukker, Agustin Merlos fueled Flexjet's hopes with three goals in the fifth. His efforts moved Flexjet from a seven-goal deficit to four, with the score 11-7 going into the final chukker. Neither team scored in the sixth, leaving the final score at 11-7. The victory puts Audi 1-1 in the standings and Flexjet 0-2.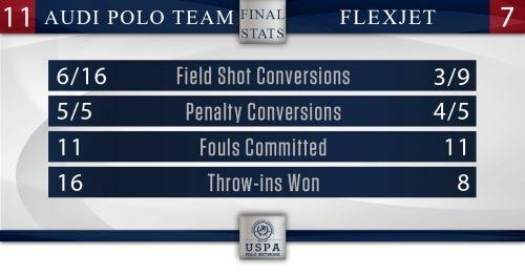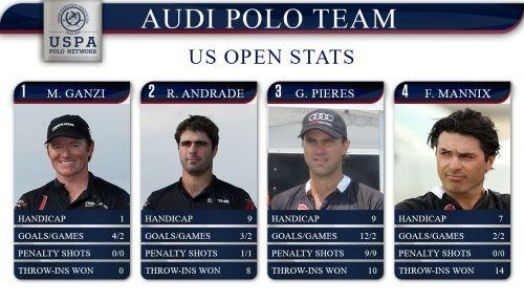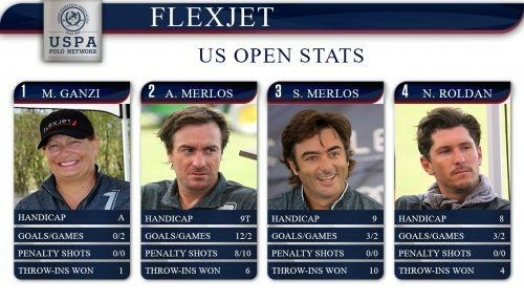 ChukkerTV, a partner of the USPA Polo Network, live streamed the games. Continuous live coverage of the 112th United States Open Polo Championship® resumes Wednesday, April 13, at IPC. Dubai and White Birch, both undefeated, will vie for a first-place finish in Bracket I at 11:00am ET. Coca-Cola opposes Valiente at 4:00pm ET.