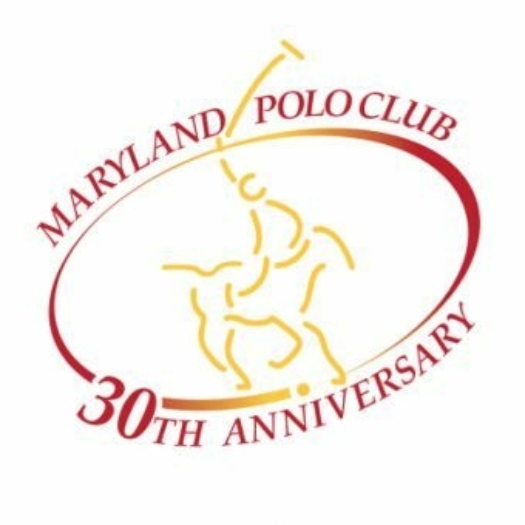 According to the Maryland Polo Club (MPC) annual magazine, Club President Peter Orthwein, Jr. states that, "on the field, MPC features more current and former Intercollegiate and Interscholastic All-Stars than any other club in the country." Celebrating their 30th Anniversary this summer, the club boasts three successful decades dedicated to family-oriented polo, with an incredible legacy and emphasis on youth players. "My favorite part about playing at Maryland Polo Club is that even though it is an all amateur club, it is always competitive. Another great aspect is how family-oriented the club is; every team that plays has at least two family members on it, so it makes it more fun, because everyone is trying to improve each other," says current MPC member George Hempt. Located outside Baltimore, Maryland in the heart of Monkton, Maryland's horse country – polo is one of many equine disciplines to prevail in the area.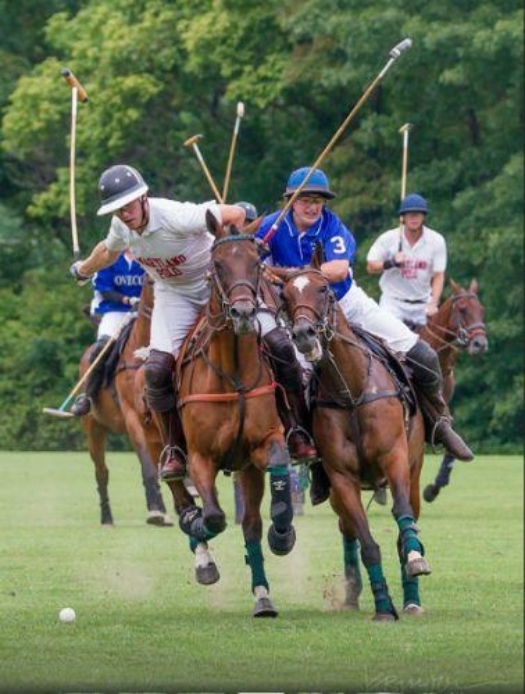 Photo courtesy of Kevin B. Moore kbmoore.com
Originally founded in 1924, MPC prospered throughout the 20s and 30s, dissolved during the World War II era and was reincarnated in the late 1970s and mid-1980s. Contemporary club founding members Dan Colhoun Jr. and Jeff Moore established ties to Intercollegiate and Interscholastic (I/I) polo very early on in the club's revitalization; Colhoun was also a founding member of the polo club at the University of Virginia and Moore competed at Cornell University. Current Garrison Forest coach, Cindy Halle was hired in 1987 to manage the club, further developing the I/I connection. Later, in the 1990s Cornell would generate four accomplished players and MPC members, including Trevor Wells, Kelly Wells (née Chambers), Peter Orthwein Jr. and Sara Orthwein (née Gompf). In 2007, the club obtained funding from the United States Polo Association (USPA) for an "Intermediate Summer Program" intended to teach newcomers to the sport. Managed by Kym McClimans at its inception the program has continued for almost a decade, and is currently directed by Kelly Wells.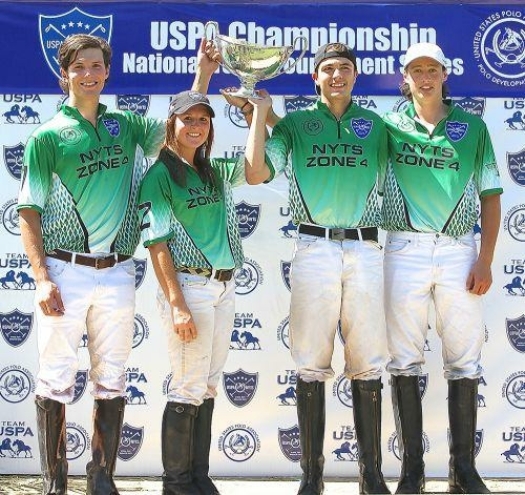 2015 NYTS Champions L to R: Barrett Coke, Marissa Wells, George Hempt and Tommy Huber. Photo: Elizabeth Hedley
Today, the club boasts three-quarters of the 2015 National Youth Tournament Series (NYTS) Champion team (George Hempt, Tommy Huber and Marissa Wells). In March of this year, both teams in the Girls' National Interscholastic Championship Finals, Maryland and Garrison Forest were made up entirely of MPC members. This was also true in the semifinals of the Open National Interscholastic Championship between West Shore and Maryland. In both instances, each respective team's coach are a member of MPC; Garrison Forest and West Shore instructed by Cindy Halle and Maryland by Kelly Wells. Similarly, both teams in the 2016 Women's National Intercollegiate Championship game between Cornell and Texas A&M were led by MPC players, Anna Winslow and Marissa Wells – the pair were also awarded to the Intercollegiate All-Star team. Furthermore, Anna Winslow is a 2016 member of Team USPA, alongside fellow MPC members Matt Collins and Kylie Sheehan. This series of achievements is testament to the quality of young players being cultivated at Maryland Polo Club.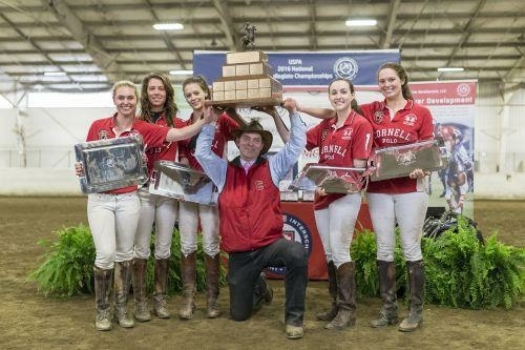 Cornell 2016 Women's NIC Hannah Noyes, Claire Stieg, Emma Eldredge, Coach David Eldredge, Elena Wicker, Anna Winslow.
Photo: Matt Baran
This deep-rooted relationship with I/I is also reflected in MPC's new club manager, Nate Berube. A New Hampshire native, Berube was the founding member of the Seacoast Interscholastic Polo Team in Northwood, New Hampshire and captain of the University of Connecticut men's team for three years. Graduating with a Bachelor's Degree in Horticulture with an Associate's Degree in Turf Management, Berube utilizes his degree on a daily basis managing the club's two fields.
New to the MPC summer schedule this year is a Women's Championship Tournament (WCT) qualifier event. According to a news article on their website, when asked about the WCT addition Club President Orthwein said, "I am thrilled that we will be able to feature a women only tournament this year. We have a long history of developing superior female players with several current and former intercollegiate and interscholastic national champions on our roster." The tournament held this coming weekend, July 8-10, will feature two flights. In the 10-12 Goal "A" Flight they are expecting five teams as well as, three teams in the Invitational "B" Flight. Top national women's players will converge on the club from as far as Aiken, South Carolina and Atlanta, Georgia ensuring a high-caliber inaugural competition.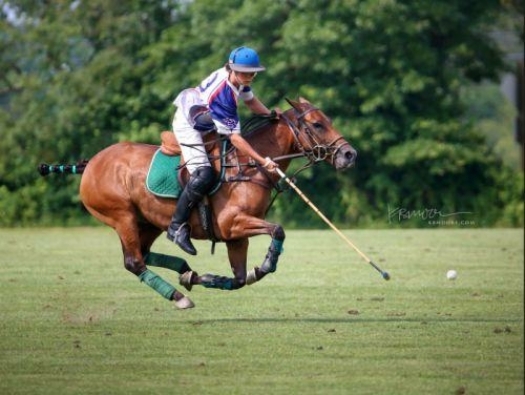 Photo courtesy of Kevin B. Moore kbmoore.com
MPC will host their second NYTS Tournament of the season, July 29-31 to accommodate their high number of youth players. Followed by the USPA 4-6 Goal Constitution Cup and USPA 6-8 Goal Fred Peterson Memorial in August. Spectators are invited to park and tailgate fieldside on Fridays at 6pm and Sundays at 3pm between June and September. The club is also host to many charity events tied to the surrounding community such as the 19th Annual Ronny Maher Memorial Polo Match held this year on July 22. Benefiting the R Adams Cowley Shock Trauma Center at the University of Maryland, the event includes a silent auction, cocktails dinner and dancing. Additionally, on July 17 MPC presents the first ever "Gallop in the Garden" in conjunction with The Old Line Society and the adjacent Ladew Topiary Gardens. Reasonably priced at $25 a ticket, admission includes a polo match, barn party, and summer concert with dinner and drinks. Funds raised by the event will support the Ladew Gardens' Childrens' Educational Programming.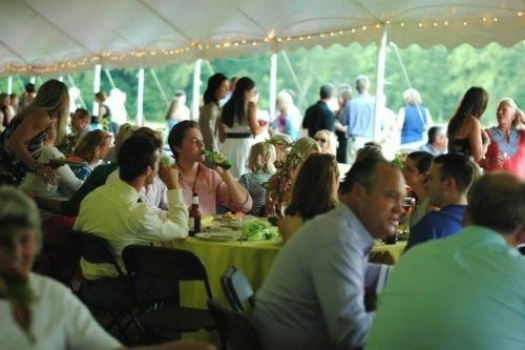 Maryland Polo Club is not simply a summer polo club, but a club that gives back to the greater polo community in abundance with passionate and highly-skilled players. They have successfully established themselves as the premier club for youth players. According to former I/I player and current MPC member Liv Stringer, "It's a fantastic club to be a younger player, from Junior polo all the way through the post-collegiate years. The Polo at MPC is affordable, fun and inclusive and manages to keep players in the game. To me it's the quintessential summer club." In a news article on the MPC website Orthwein declared, "I am very happy with how our club has grown and evolved over the past 30 years." Check out their newly renovated website and buy Maryland Polo Club swag in their apparel shop. "Like" them on Facebook and follow them on Instagram for up-to-date schedules of tournaments and events.