Four teams competed on Wednesday, January 18, in the 20-goal Joe Barry Memorial semifinal doubleheader at the International Polo Club Palm Beach in Wellington, FL. Both undefeated teams that moved directly to the semifinals lost their games; La Indiana defeated Tonkawa 10-6 and Mt. Brilliant won 11-10 over Grand Champions Polo Club.

SIX UNANSWERED GOALS IN THE FINAL CHUKKER AND A HALF LEAD TO LA INDIANA'S 10-6 VICTORY OVER TONKAWA
The first semifinal of the day featured a much-anticipated rematch between La Indiana and Tonkawa. In their previous encounter in the third round of Joe Barry Memorial bracket play, Tonkawa sneaked by La Indiana 13-12. Both teams exhibited intensive defensive strategy resulting in a low-scoring semifinal match that would remain neck and neck throughout the first half.The second half was a noticeably different match. Both teams opened up the game with long shots and numerous breakaway runs that exhibited incredible horse power. Tonkawa's Sapo Caset scored the only goal of the fourth, picking up an open backshot from teammate Facundo Obregon to take a 4-3 lead over La Indiana.
Tension began to mount as the teams entered the final two chukkers. A breakaway run by Mike Azzaro at the beginning of the fifth, caught a bad bounce but was finished by Jeff Hall to tie the game 4-all. Back-to-back penalty conversions from Sapo Caset gave Tonkawa a two-goal lead, the largest of the game. A determined Hall scored two consecutive field goals for La Indiana to equalize the score 6-all going into the sixth chukker.

"We played this team our second game in bracket play, and they came out six nothing on us! We were just asleep, but we ended up tying them in the last chukker, so we knew how to play them, which was an advantage. Today I went to Sapo, that was a big change. The idea was if we could snatch Sapo away from the team, he's the 10-goal player—let the other three beat the other three and he only scored two field goals today." – 7-goaler Jeff Hall of La Indiana
La Indiana continued their momentum into the final chukker, taking control of the game and dominating the competition with four unanswered goals, each La Indiana player contributing a goal.
"This team is starting to play well together. After a few games, you put any good polo players together, if they start to gel and have discipline in polo you're going to find some good results and that's what happened." – La Indiana team owner Michael Bickford.
A disheartened Tonkawa was unable to recover from the onslaught and was defeated 10-6, La Indiana securing the first spot in Sunday's Joe Barry Memorial Final.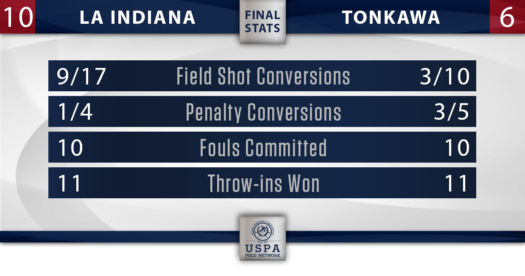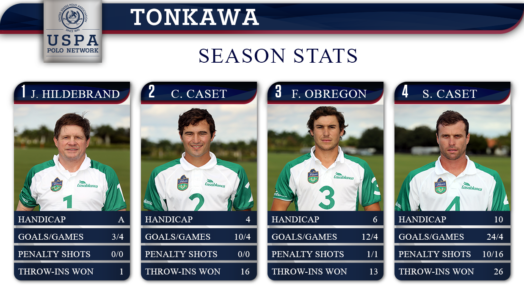 MOUNT BRILLIANT EDGES PAST GRAND CHAMPIONS POLO CLUB 11-10
The second Joe Barry Memorial Semifinal pitted undefeated Grand Champions Polo Club (GCPC) against Mt. Brilliant. Mt. Brilliant lost their first game of bracket play against Tonkawa 19-11 but rallied against their remaining competition defeating all three teams by at least three goals. The evenly matched teams quickly racked up goals in the first chukker tying the score 3-all. The remainder of the fast paced and frantic first half would lead to similar results, both chukkers ending with tied scores, 5-all after the second and 6-all after the third.

Mt. Brilliant gained a slight edge in the second half exhibiting fantastic team play. Both teams converted penalties in the fourth, however a great pass from Santiago Chavanne to Julian Daniels gave Mt. Brilliant the lead 8-7 entering chukker five. A GCPC knock-in by Nic Roldan at the beginning of the fifth opened up the game and a goal by Grant Ganzi equalized the score 8-all. Steadfast Mt. Brilliant answered with back-to-back goals from Chavanne and Jason Crowder leaving GCPC trailing by two entering the final chukker. Disciplined defense by Bo Goodman led to another Chavanne goal widening the gap 11-8. An unwavering GCPC continued to battle, scoring two consecutive goals, a field goal from Juancito Bollini and a penalty conversion from Roldan bringing the score 11-10. With time running out, a penalty out of the lineup gave GCPC a center hit with five seconds added to the clock. Roldan hammered a long shot downfield and to the right, but it was intercepted by Crowder who steered the ball away from goal as the final horn sounded.

"That was a big team, they are tough, they're good, they are four players. It's a war every play—you don't get to take a play off because they are always coming and diving in from in front, behind, wherever. They matched up well with our team, because that's the pressure we put on people usually. Having Bo always driving forward and always keeping everybody on their heels is one of our huge advantages." – Mt. Brilliant's Jason Crowder
Mt. Brilliant seized the win with a final score 11-10 over Grand Champions Polo Club to garner their final spot in the Joe Barry Memorial Final. USPA Polo Network on uspolo.org will livestream the Joe Barry Memorial Final this Sunday, January 20 at 3:00pm ET.