Casablanca defeated La Indiana 10-8 to take the National Twenty Goal® title.
La Indiana (Michael Bickford, Jeff Hall, Kris Kampsen, Nick Manifold) met Casablanca (Gussie Busch, Grant Ganzi*, Juancito Bollini, Nic Roldan) at La Indiana Polo Farm on Sunday to battle for the National Twenty Goal® title with both teams playing off a 17-goal handicap.

Ganzi put the first goal on the board for Casablanca. An answer from La Indiana's Hall and a Penalty 3 conversion by Bickford ended the first chukker 2-1 for La Indiana. In the second chukker, Kampsen took control of the ball following a penalty and put goal number three through the posts for La Indiana. Nic Roldan won the throw-in and scored for Casablanca, followed by Bollini sneaking in behind Bickford to end the chukker in a 3-all tie.
La Indiana dominated the third chukker, fielding a defense strong enough to keep Casablanca away from the goal while Hall took a successful shot on goal for La Indiana. At 4:37, Casablanca challenged a foul on Ganzi for riding into a backshot, but the officials declined the challenge. Kampsen took a Penalty 4 shot that was completed by Manifold, and the half ended with La Indiana leading 5-3.

Casablanca returned after the half intent on putting a stop to La Indiana's momentum. Barely 40 seconds into the play, Roldan shot to score, following up less than a minute later with another goal to tie the score up at 5-all. In the last 35 seconds of the chukker, Bollini made a fantastic breakaway, thundering downfield to end the chukker by putting Casablanca into the lead 6-5.
Both teams played a strong defense in the fifth chukker, which ended tied 6-all with an unanswered goal by Hall. The final chukker started with Right of Way violation that gave Kampsen an opportunity to put his team up by one on a Penalty 4. Roldan, realizing it was time to put the match in the bag for Casablanca, showed why he's likely to be on his way to a ten-goal handicap, dominating the field and putting three consecutive goals on the board for Casablanca, and then converting on a Penalty 6.

Kampsen had one last opportunity to score for La Indiana on a Penalty 4, but the match ended in a 10-8 victory for Casablanca. Juancito Bollini was named Most Valuable Player, and Narval, owned and played by Michael Bickford, received Best Playing Pony honors. With Casablanca's win, Nic Roldan's sixth, he becomes the individual player with the most National Twenty Goal® wins.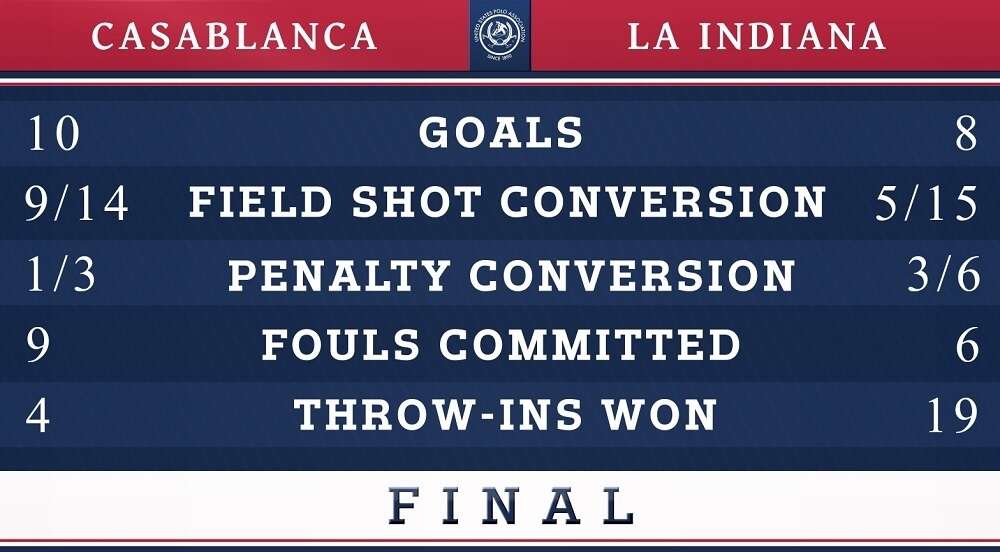 All photos courtesy of ©Grand Champions Polo Club.
*Grant Ganzi is a Team USPA alumni. Team USPA is a USPA program designed to enhance and grow the sport of polo in the United States by identifying young, talented American players and providing mentored training and playing opportunities leading to a pool of higher rated amateur and pro players and the resultant giveback to the sport of polo.