The North American Cup® Final at Grand Champions Polo Club in Wellington, Florida, saw 17-goal Newport (Gene Goldstein, Sugar  Erskine, Michel Dorignac, Juan Bollini) go up against 18-goal Casablanca (Grant Ganzi*, Henry Porter, Juancito Bollini, Nic Roldan) on Wednesday, November 18, at Santa Rita  Polo Farm. Newport started the match with one goal on the board due to the difference  in team handicaps.

The match got off to a fast start, with Roldan taking possession of the ball to score  within the first 30 seconds. Porter followed up with his first goal of the day, a  harbinger of things to come. After  Newport's Erskine knocked the ball past the  boards, Roldan took advantage of the possession play to fire a shot on goal. The  chukker ended 3-1 with Newport unable to score. Dorignac put the first goal on  the board for Newport, with Juancito Bollini answering to bring the score up to 4-2 for  Casablanca. At three minutes, Erskine shot to end the chukker 4-3 for Casablanca.
Just  over a minute into play in the third chukker, Roldan dodged a hook from Erskine and  scored with an open backshot. Ganzi scored on a Penalty 3, only the second foul of  the match, followed up by another goal from Roldan on a breakaway. Erskine ended the  chukker on another breakaway with a cut shot to goal. The half ended 7-4 for  Casablanca.

Erskine put the first goal of the second half on the board, with an answer from Juancito  Bollini. The fourth chukker ended 8-5 for Casablanca, while the fifth period saw  Casablanca achieve a commanding lead. Ganzi broke away to put the ball through,  bringing the score to 9-5. Goldstein scored a neat goal at the posts, and then pushed  Roldan wide to allow Erskine a clear trip downfield to bring the score to 9-7, the
closest margin of the game.
Just as things were potentially looking up for Newport,  Porter came alive to score three consecutive goals, putting Casablanca ahead  12-7. In the final chukker, Ganzi scored on another Penalty 3, and Roldan found the  goal one last time to bring Casablanca up to 14. Despite goals by Erskine and Dorignac,  Casablanca prevailed with a final score of 14-9.

Nic Roldan was named Most Valuable Player, while  Tessita, played by Erskine in the fourth chukker, was named Best Playing Pony.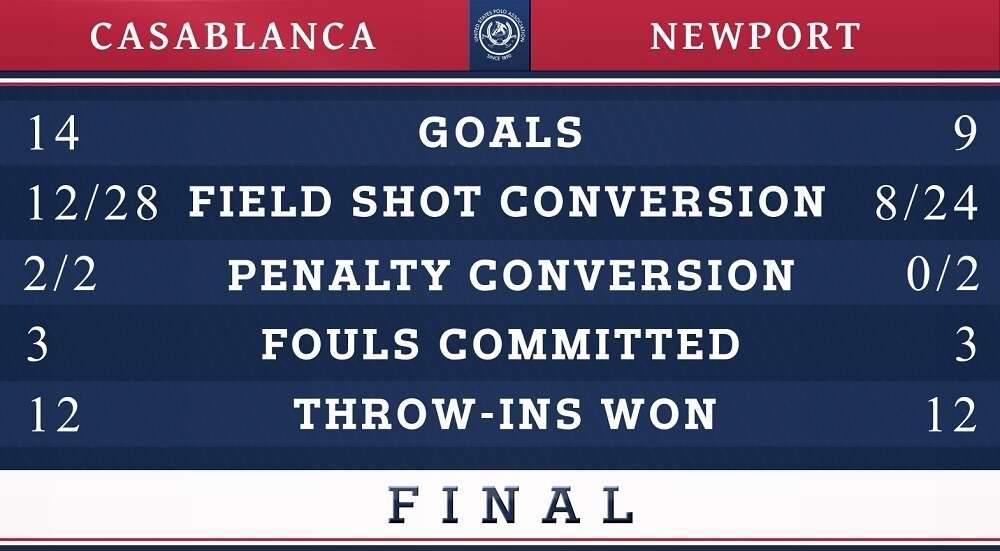 All photos courtesy of © Grand Champions Polo Club
*Grant Ganzi is a Team USPA alumni. Team USPA is a USPA program designed to enhance and grow the sport of polo in the United States by identifying young, talented American players and providing mentored training and playing opportunities leading to a pool of higher rated amateur and pro players and the resultant giveback to the sport of polo.