USPA Programs
Umpires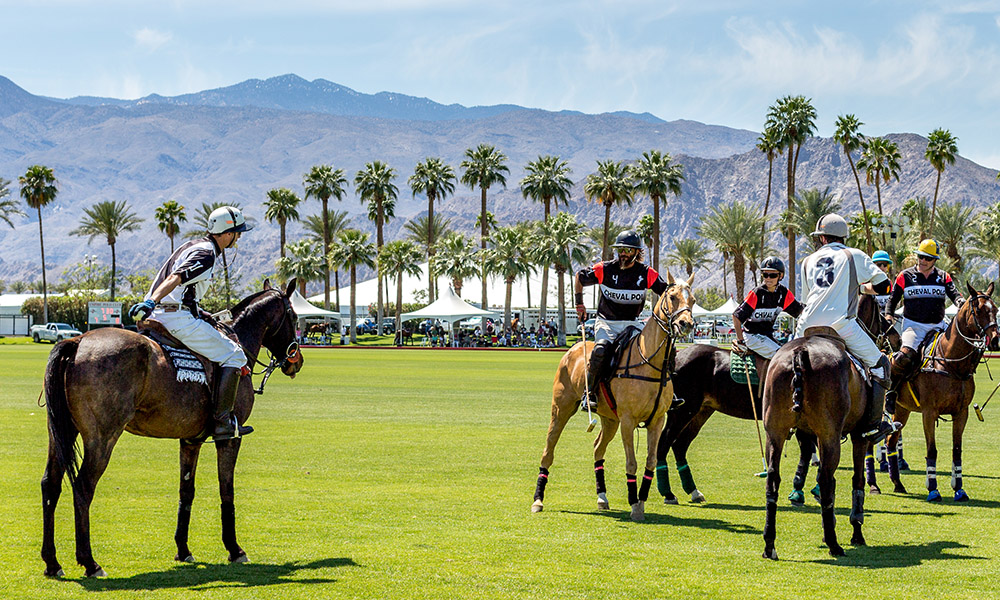 KEY INITIATIVES:
The USPA Umpire Training and Certification Program
The USPA Umpire Expense Reimbursement Program
The USPA Professional Umpire Program
The USPA PUMP/8 Program
The USPA Umpire Program is responsible for the ways and means of achieving umpiring excellence in the United States. The USPA Umpires, LLC oversees the Umpire Program and interacts with the USPA Board of Governors.
The USPA sets the standards in terms of excellence beginning with its Umpire Training and Certification Program and USPA approved umpire seminars and clinics, along with the Circuit Umpire Expense Reimbursement Program (UMP), and the Professional Umpire Program.
USPA PROFESSIONAL UMPIRE PROGRAM
The USPA Umpires, LLC, manages the USPA Professional Umpire Program and is responsible for:
The solicitation and training of USPA Professional Umpires.
Developing apprentice opportunities to develop and market USPA Professional Umpires who have obtained an "A" and "AA" certification.
Conducting periodic meetings of all USPA Professional and Certified Umpires at regional polo venues.
Interacting with USPA member clubs to solicit and market USPA umpire services.
Interacting with USPA member clubs to review and evaluate USPA umpire services and adherence to the USPA Rules and Interpretations by USPA Certified Umpires.
Defining and monitoring established high standards of excellence for umpire professionalism and demeanor.
CONTACT INFORMATION

For information concerning any aspect of the USPA Umpire Program, please contact: Executive Director, Charlie Muldoon at cmuldoon@uspolo.org
There are four steps to becoming a USPA Certified Umpire:
Pay the current year USPA Individual Member fee.
Take the current year Outdoor or the Arena Rules test (annually) and obtain a grade from the USPA. (Note: In order to receive or maintain an Umpire Certification from "CU" to "AA" the minimum grade of 95% (Outdoor), 94% (Arena), must be met on the Annual Rules Test: This applies to certified umpires). Each certified umpire must complete the Rules Test by December 1 each and every year in order to maintain certification for the coming year.
Be observed (every three years) and a recommendation made by a designated USPA Umpire Certifier. (Note: It is not a certainty that members will be awarded an Umpire Certification after being evaluated. Umpire Certification recommendations must be forwarded to Charlie Muldoon at cmuldoon@uspolo.org.)
All USPA Umpire Certifications are approved and recorded by the USPA Umpires, LLC Committee. Umpires LLC Professional Umpire are able to certify umpire one level below their own certification, and professional status. Steve Lane is able to certify umpires at all certification levels.
Individuals seeking Umpire Certification are responsible for completing Items 1, 2 and 3 above.
Rules tests can be obtained at www.uspolo.org and completed on-line. A list of Umpire Certifiers can be found at www.uspolo.org and individuals requesting Umpire Certification ratings must insure that Umpire Certification recommendations are submitted to the USPA office at: 9011 Lake Worth Rd. - Lake Worth, FL 33467.
After items 1-3 above are completed by the individual requesting Umpire Certification, all Umpire Certifications will be approved by the USPA. A list of approved Umpire Certifications will be posted on the USPA website at www.uspolo.org and updated periodically.
Umpire training and certification is available to all USPA members with an emphasis on growing the number of certified umpires to be available to member clubs for all club and USPA events.
The USPA Umpires, LLC creates a career path for professional umpires, which includes a national roving umpire who umpires member club events, conducts clinics, provides feedback for certifications, and identifies new umpire talent.
The Umpire Management Program provides specified funds to member clubs for umpire expenses on all levels of umpire certification with an emphasis on following and promoting USPA rules, rules interpretation, umpire standards and umpire guidelines. In the Umpire Exchange Program, U.S. professional umpires will be afforded opportunities to travel abroad to train and mentor with peer professionals for their continued education and enhancement.
For more information about Umpire Certification and Training, contact Charlie Muldoon at cmuldoon@uspolo.org.
The Mission Statement of the USPA Umpires, LLC is to advise the USPA Chairman and Board of Governors about all aspects of umpire training, education and certification including: advisement pertaining to consistent umpire rules and interpretation enforcement; updates to the USPA Umpire Guide.
The LLC also oversees the administration process for umpire certifications including the USPA Professional Umpires. The Head Umpire Instructor manages the USPA Umpire Training and Certification Program for the USPA Umpires, LLC.
For USPA trained and certified umpires, adherence to high standards and professionalism earns respect from players and clubs as well as results in pride within the ranks of certified umpires. For players and clubs, umpiring excellence will be witnessed on the polo field and taught in USPA approved umpire clinics and seminars. Umpiring excellence makes the sport safer, more competitive and more fun to play and watch.
Umpire enforcement of the USPA Rules and Rules Interpretations is one of the highest priorities for all certified umpires. USPA members must feel confident that the certification rating reflects the highest level of training and observation for that umpire rating. High-quality umpires are high-value assets and should be considered a top priority when hosting USPA events creating a viable polo club culture.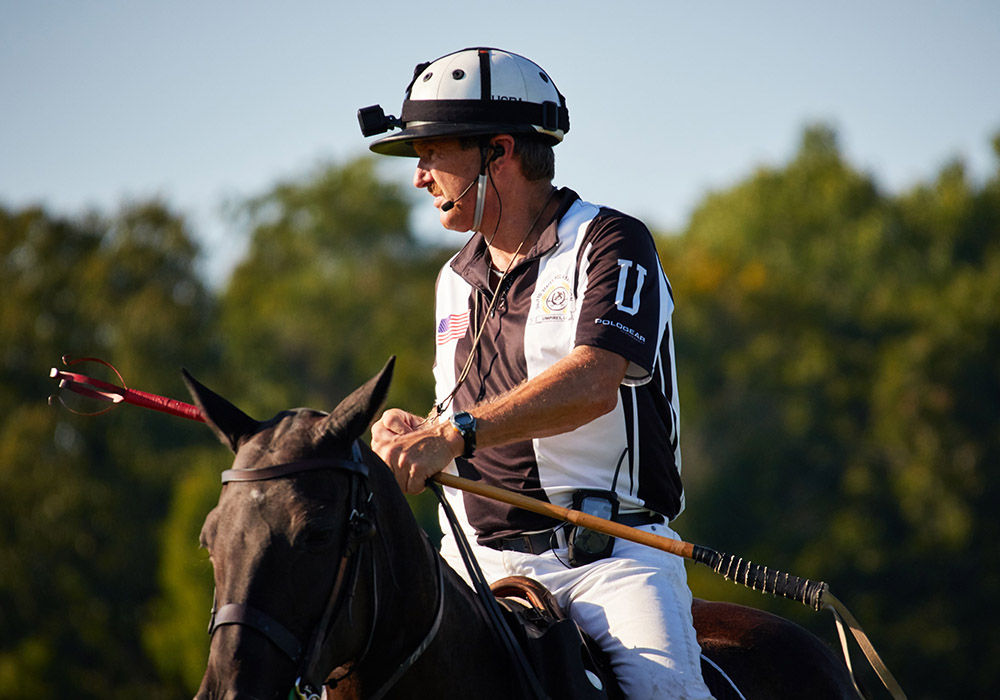 Each USPA circuit is allocated "UMP" funds, based on the amount of member clubs, registered players and affiliate members within the circuit. The Umpires LLC, UMP Program is focused on reimbursing a portion of umpire fees and expenses to clubs who hire professional, or certified umpires for tournaments with four teams or more. There is a total amount of $118,000 allocated to the 13 circuits of the USPA. Over 40 USPA Member Clubs received umpire reimbursements through the UMP Program in 2016. The UMP program is available to all USPA National and Circuit events as well as Sanctioned and Club events.
Applies to both Outdoor and Arena events.
Must be a minimum of four teams participating in the events (USPA National, Circuit, Sanctioned events and Club events).
Per the Umpire Rate Schedule, on the bottom of forms EO-1 and EA-1, the highest reimbursement rate is "BB", lowest is "CU", on a per game basis.
Hosting club agrees all tournament participants are current USPA members, and all matches will follow USPA Rules.
USPA member clubs, may be reimbursed up to a maximum of 80% of requested reimbursement, who have hired Professional, or Certified umpires, using form EO-1, not travel or housing, etc.
Under the UMP Program, expense reimbursement to include travel, housing or per diem expenses, using Form EO-3, and submitting receipts.
Qualifying umpires must be currently listed as USPA certified umpires.
Funds are reimbursed based on a signed affidavit by the check writer as well as the umpire check recipient, which is located on the Reimbursement Request forms EO-1, EO-2, and EA-1.
An attached W-9 must be completed and signed by the club, prior to any reimbursement being paid.
The Reimbursement Request forms EO-1, EA-1, or E-2 must be submitted to Steve Lane at slane@uspolo.org (in a PDF Format, pictures are not acceptable) within 60 days following the event for consideration of reimbursement prior to November 1st, 2017, unless pre-approved.
Any funds remaining that have not been reserved after November 1, will be reallocated by USPA Umpires LLC to other circuits/clubs which have submitted and met the reimbursement request criteria.
If a Club does not pay their accounts receivable balance in full within 60 days, all UMP funds allocated for that Club will be forfeited.
For further information, please visit the USPA website under Umpire Services or contact Charlie Muldoon at cmuldoon@uspolo.org.
UMP Forms
USPA Umpires, LLC is continuing the Professional Umpire Management Program's (PUMP) umpire initiative. USPA clubs hosting a USPA National or Circuit Event 8-goals or below, may be eligible for a professional umpire through the PUMP/8 Program. The program will cover the cost of travel, housing, ground transportation and salary for one umpire.
For additional information, please contact Umpire Manager Maggie Mitchell at 941-928-4600 or mmitchell@uspolo.org.

PUMP/8 Forms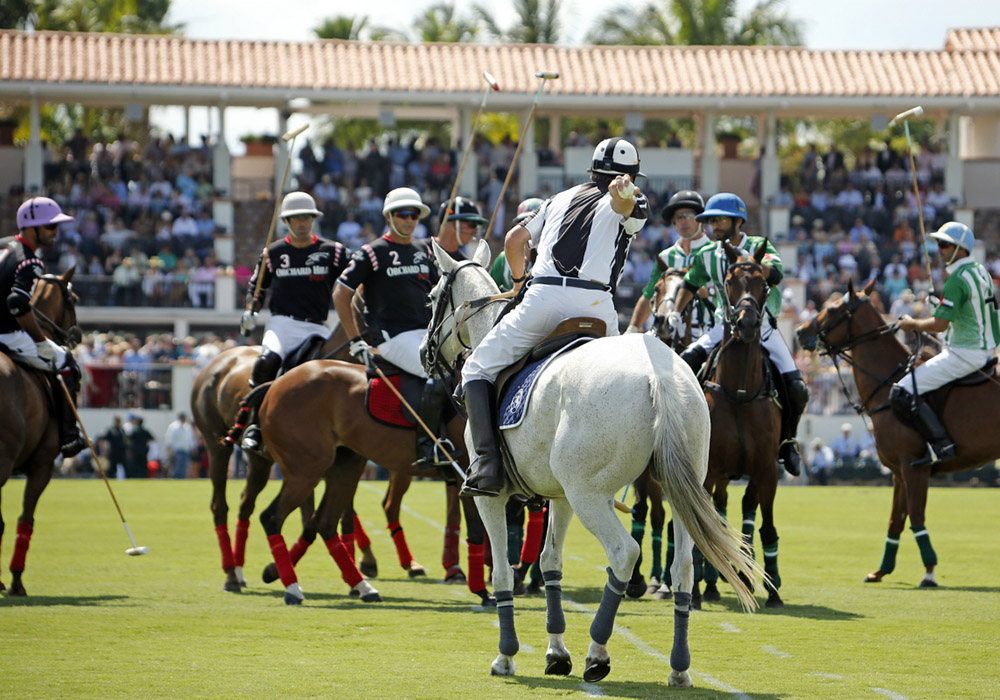 For clinic dates and availability, please contact Charlie Muldoon at cmuldoon@uspolo.org or (240) 731-2248.