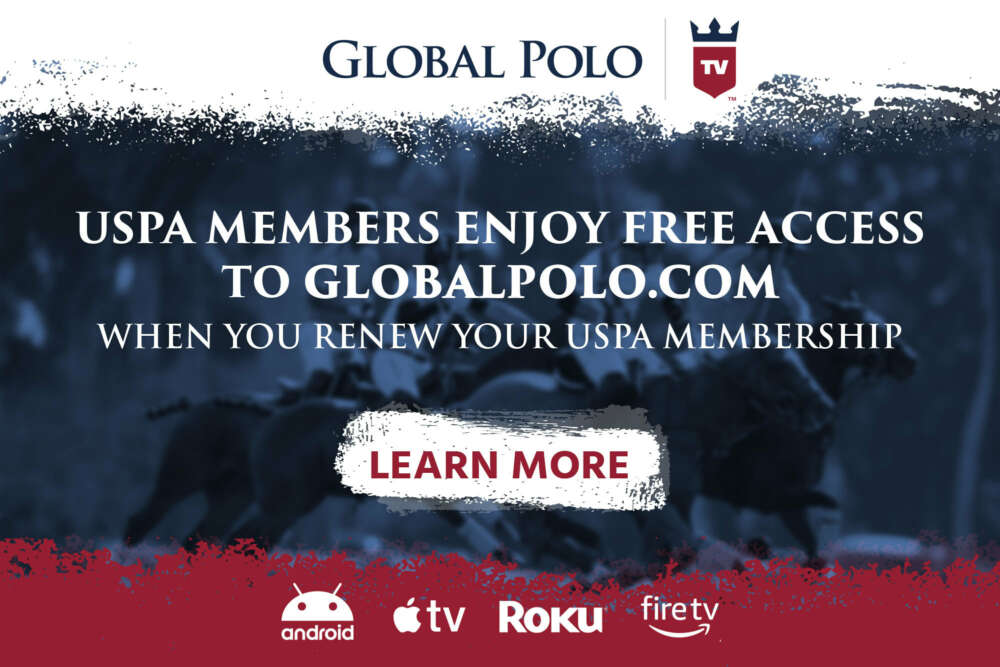 The mission of the United States Polo Association (USPA) is to promote the game of polo - and what better way to do so than to livestream the best games via a television platform like Global Polo TV? After nearly seven years of livestreaming games with ChukkerTV and producing global broadcasts, together with Global Polo Entertainment (GPE), the Association is continuing to grow. The goals for the new platform are to build one premier destination for polo and showcase the best USPA polo tournaments in the United States.
Sustainability of the sport is dependent upon building public awareness and educating the sports–minded consumer about the game, players, horses and the lifestyle. In 2019, the USPA and GPE developed a pinnacle event called the GAUNTLET OF POLO® by combining the C.V. Whitney Cup, USPA Gold Cup® and the U.S. Open Polo Championship®, offering $1 million in prize money. Team entries rose from six in 2018 to 16 in 2019 and 14 in 2020. The execution and promotion of the GAUNTLET OF POLO® proved to be hugely successful, creating a venue in which players and team owners wanted to compete.
In 2021, the USPA and Global Polo TV will continue to provide year-round content and live games for free to USPA current and lifetime members. To receive your free Premium Polo Pass membership to Global Polo TV, you must first pay your USPA membership dues in full and then you'll receive access to the library of content, short films and live games. Additionally, USPA Social members will also receive the Polo Pass complimentary and discounts off the GAUNTLET OF POLO® Pass. Pay your dues before Thursday, December 31, if you don't want to miss the first tournament of the season, the Joe Barry Cup, January 3 – 17!
Beginning November 2020, Global Polo TV will begin charging subscriptions to non-USPA members. The subscription model will consist of three packages:
The Polo Pass will include games for more than 18 live tournaments (excluding the GAUNTLET OF POLO®) for an annual fee of $49.99 (a $75.00 value).

The GAUNTLET OF POLO® Pass will include all three GAUNTLET OF POLO® tournament series games (C.V. Whitney Cup, USPA Gold Cup® and the U.S. Open Polo Championship®) for an annual fee of $125.00 (a $150.00 value).

The Premium Polo Pass will include all livestreamed games of the Polo Pass and the GAUNTLET OF POLO® Pass for a discounted fee of $175 (a $225.00 value).
Special offers will be available at www.globalpolo.com on or before November 2020 through December 31, 2020.
Global Polo TV is thrilled to share this new evolution of livestreamed games and hope you enjoy the upcoming year.