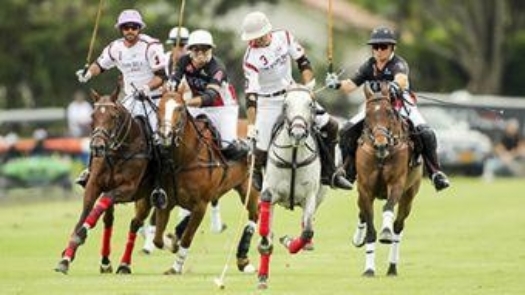 Orchard Hill and White Birch took strong wins on the second day of the U.S. Open Polo Championship® on Sunday, April 3 at the International Polo Club Palm Beach (IPC). Orchard Hill defeated Audi 12-10, and White Birch won over Valiente 11-7 in the featured 3pm stadium match. White Birch's Hilario Ulloa was named Most Valuable Player. Best Playing Pony honors went to "Melody," played by Mariano Aguerre and owned by Los Machitos.



ORCHARD HILL HANGS TIGHT AND TRIUMPHS OVER AUDI 12-10
Orchard Hill took an early lead and held it all the way through for a 12-10 victory. However, Audi came out strong in the second half, turning what looked like an unquestionable Orchard Hill victory, into what patron Steve Van Andel called "anyone's game." Despite a lackluster start for Audi with a scoreless first two chukkers (compared to five for Orchard Hill), Audi started to dig in at the beginning of the third. Gonzalito Pieres scored twice from the penalty line, and Facundo Pieres countered with two field goals, ending the first half 7-2 for Orchard Hill.
An invigorated and far more recognizable Audi team emerged after halftime, organizing their moves with several successful plays. As Facundo Pieres reflected, "We played very, very well in the first half. In the second half, we made a couple of mistakes that put them back in the game, and they started playing better." All told, Audi racked up more goals in the second half than their opponent, keeping Orchard Hill from scoring in the final chukker.
However, by then it was too late. "We were on the defense in the second half, but we were able to hold off because of the lead we had at the start to make it over the top," said Van Andel. "I have never played an Open that had more competitive teams," he said. "Some had more teams, but I can't remember any that were this competitive."
A major challenge for Orchard Hill was finding a replacement for 10-goaler Polito Pieres, who injured his shoulder in the USPA Gold Cup®. They recruited Juan Martin Nero, but were unable to practice with him because he didn't arrive in Wellington until the night before the Sunday game. "Now we have a week to figure out the next game, and Juan Martin will know more about the horses," said Facundo Pieres.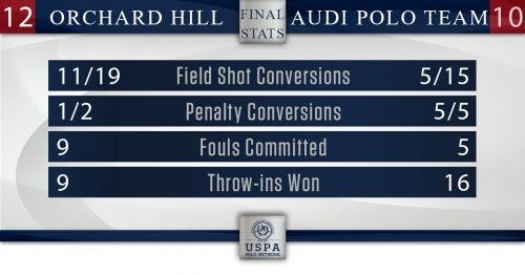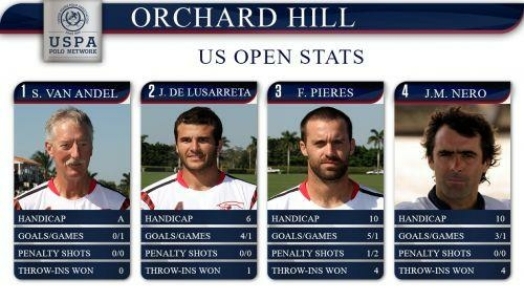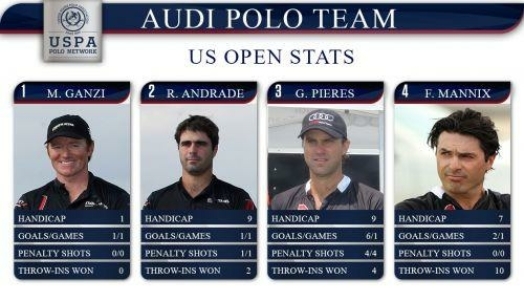 WHITE BIRCH 11-7 WIN OVER VALIENTE
In a choppy game punctuated by 22 fouls, White Birch defeated defending U.S. Open Champion Valiente 11-7 in the featured match. Hilario Ulloa immediately set the tone for White Birch, making the only goal in the first chukker and following through with goals in every subsequent chukker. He was the game high-scorer with nine goals, riding with his signature uneven stirrups (the right leather is several holes shorter than the left, which he finds more comfortable). Ulloa made an astounding goal in the third when he snagged the ball off the sideboards, wheeled his horse around 180 degrees and scrambled out of the pack. He zipped past Alfredo Cappella, galloped along the backline, and scored.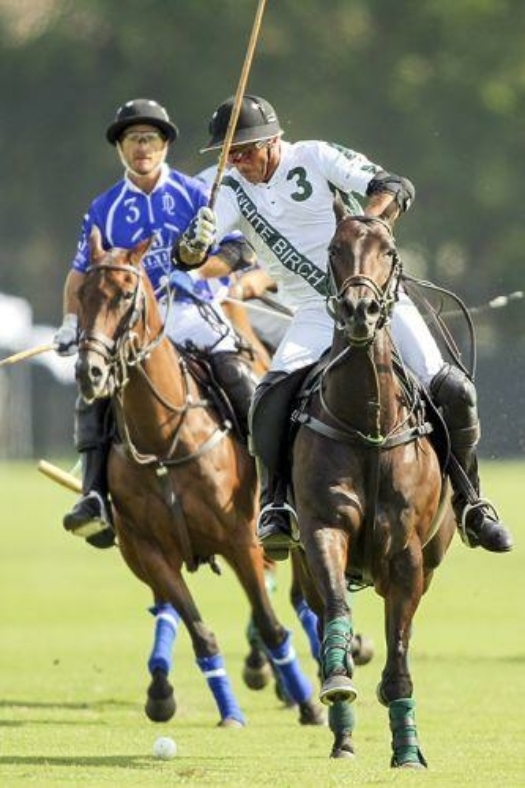 Mariano Aguerre. Photo: David Lominska
White Birch kept Valiente scoreless in the first and fourth chukkers while holding a two-goal lead for most of the first half, which ended 6-4. Despite three goals each by Tomas Garcia del Rio and Cappella (the Argentine sensation known for 100-yard-plus shots) and one by Santi Torres, the White Birch train was unstoppable. They stretched their lead to five goals through the fourth and fifth, with Cappella and del Rio (both in their U.S. Open debut) chipping away in the final chukker to end the game 11-7 for White Birch.
"At the beginning it was a really even game, and it was tough to make a difference. We were really lucky," said Ulloa. "We played our best chukkers in the third and fourth. The shots were clean, and we scored a couple of good goals. I think that made the difference in the game." Valiente's roster in this year's Open was also a factor. Two of their 2015 pillars, Adolfo Cambiaso and Alejo Taranco, are playing for Dubai. Valiente will have a tough matchup next Saturday against that dangerous lineup.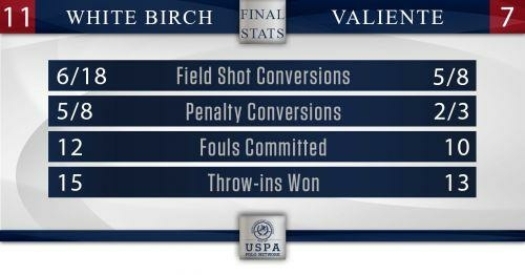 The games were live streamed by ChukkerTV, a partner of the USPA Polo Network. Continuous live coverage of the 112th U.S. Open Polo Championship® continues Saturday, April 9, with two games at IPC. White Birch plays Coca-Cola at 10:00am ET, and Valiente faces Dubai at 5:00pm ET.