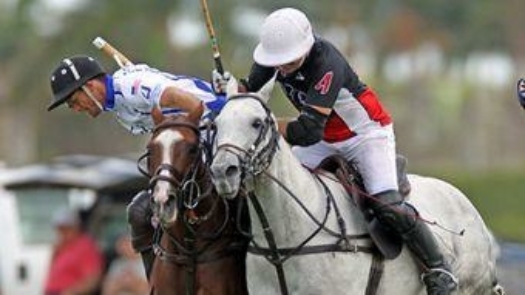 The 26-goal USPA Gold Cup® continued Sunday with three games at the International Polo Club Palm Beach (IPC) and one at Valiente. In exciting overtime play at Valiente, Lucchese defeated White Birch 10-9. In the IPC games, Dubai defeated Orchard Hill 10-7 and Audi defeated Valiente 9-7. In the 3 p.m. featured match, Coca-Cola took an 11-9 victory over Flexjet. Julio Arellano was named Most Valuable Player, and his fifth chukker mount, Got Milk, was Best Playing Pony.
Undefeated Dubai Takes 10-7 Win Over Orchard Hill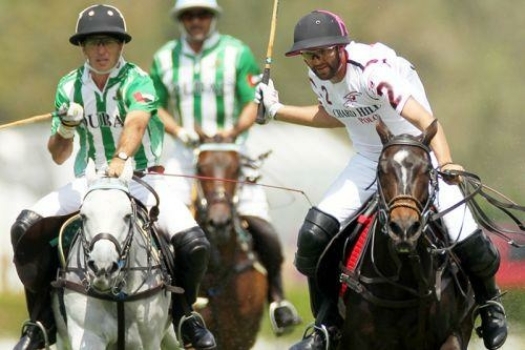 In the tent with his teammates celebrating a 10-7 victory over Orchard Hill, Adolfo Cambiaso had a glint in his eye. When asked what the key was to the win, he said, "Luck!" Cambiaso pointed to his daughter, Mila, who was wearing the same dress she wore when he won the Argentine triple crown in Palermo three months ago. The minute Dubai rode onto the field, however, it was clear they weren't going to need luck. All it would take was to play with the same strategy they successfully used against White Birch last week: wind Cambiaso up, turn him loose and keep Orchard Hill away from him. That's not so easy to do, however, when you're up against a middle commanded by the double-barrel power of 10-goalers Polito Pieres and Facundo Pieres.
A stunned Orchard Hill remained scoreless for the first two chukkers. Dubai patron Rasheed Albwardy played a superb game, making three goals. Two of them came back-to-back in the second chukker, putting Dubai ahead 4-0. Facundo Pieres kicked into gear in the third, tightening the gap to three goals with one of his trademark 100-yard drives between the goal posts. Still, it was a frustrating day for him, particularly in the fifth chukker, when he drew two yellow cards immediately after a foul was called. With Facundo Pieres benched for two minutes, Cambiaso scored twice (once on a penalty 4 and once from the field on a pass from Alejo Taranco), stretching the gap to five. When Pieres returned with 1:34 left in the chukker, Cambiaso remained unfazed. He promptly converted from 60 yards out, after an uneven rideoff call against Orchard Hill, propelling Dubai into a 10-4 lead. At that point Facundo Pieres had enough; he regained his composure and scored twice in the final chukker. Time ran out before Orchard Hill could continue the push, with the game ending 10-7 for Dubai.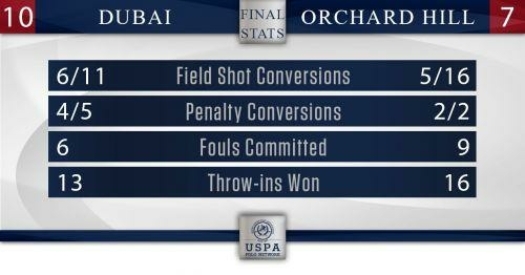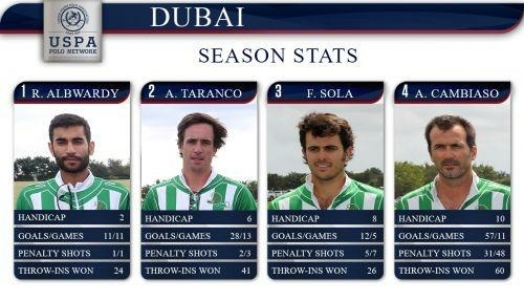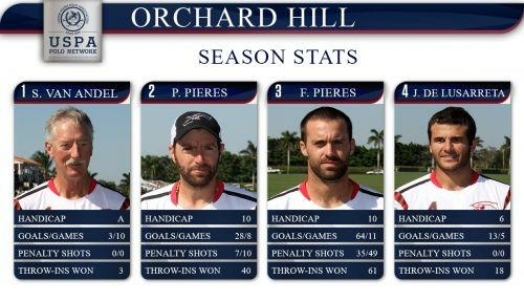 Lucchese Defeats White Birch 10-9 in OT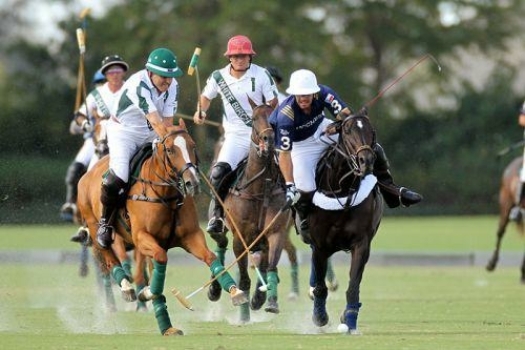 In their second overtime victory in the tournament, Lucchese took the win over White Birch 10-9. Just two days before, Lucchese defeated a strong Orchard Hill in overtime. Lucchese's firepower came in the form of Sapo Caset, the only 10-goal player on the field, who scored all but two of the team's 10 goals in Sunday's game at Valiente. Commanding the ball with laser accuracy and speed, Caset made three consecutive goals in the second chukker, which ended 3-all. Every time Caset was left unguarded, off he went, on more than one occasion flying past the entire White Birch team while carrying the ball all the way down the field.
Just before halftime, White Birch veteran Mariano Aguerre tied the game at 4 with tight teamwork that saw all three of his teammates in on the play. The second half unfolded with Caset and Hilario Ulloa (White Birch's high-scorer with six goals) trying to run each other ragged up and down the field. Ulloa was glued to Caset's hip as Caset made a successful run to goal, bringing Lucchese into a one-goal lead. Ulloa nearly scored on an open-goal penalty 3, but Caset blocked it and followed up with a goal on a sharply angled cut shot for a 7-5 lead. Meanwhile, Nico Pieres and Magoo Laprida (who scored the winning goal) played a tight middle for Lucchese. Lucchese made only six fouls (two on yellow cards). That, said Caset, was the strategy. "We talked about it yesterday. The idea was to not foul and not give them easy goals," he said. "Sometimes we gave them one more shot instead of fouling, and that was the key."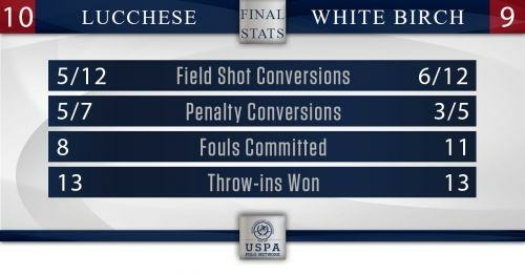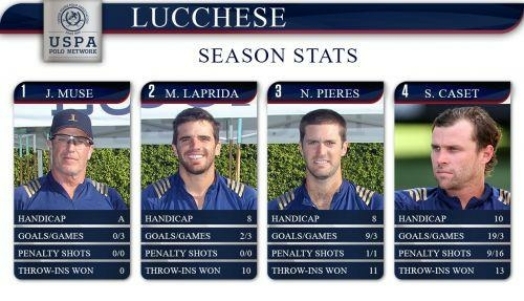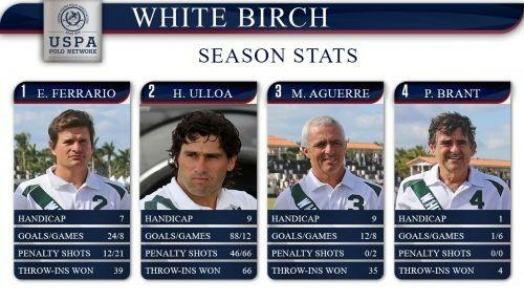 Coca-Cola Takes 11-9 Victory Over Flexjet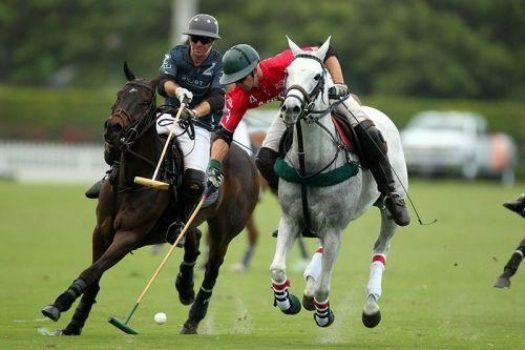 Coca-Cola clinched a much-needed win over Flexjet, garnering an 11-9 victory. No one felt the pressure more than Julio Arellano, who rode onto the field on a mission. "Flexjet won their first game and we lost ours, so we really needed to win this one," he said. Arellano made sure that happened, making four consecutive goals in the first chukker, all but one from the field. At the end of the chukker Coca-Cola led 4-1. The action slowed in the second, with Agustin Merlos making the only goal (on a penalty 2). He made two goals each in the third and fourth chukkers, consistently contributing to the scoreboard, to tie the game at 7.
Gillian Johnston had the crowd on their feet in the fifth, making back-to-back goals and pulling Coca-Cola ahead 9-7. After one more goal by Merlos (the game's high-scorer with seven goals total), Sugar Erskine answered right back for Coca-Cola. Each team made another goal in the final chukker, ending the game 11-9 for Coca-Cola. "We got off to a really good start, and they came back very strong," said Arellano. Luckily we got the momentum back at the end."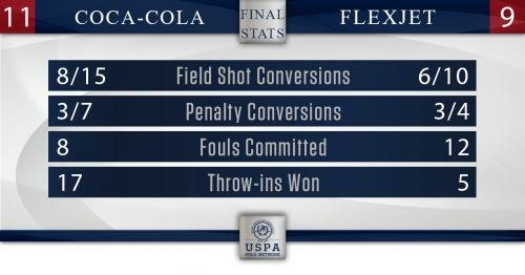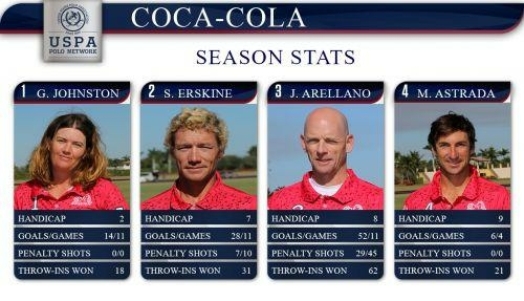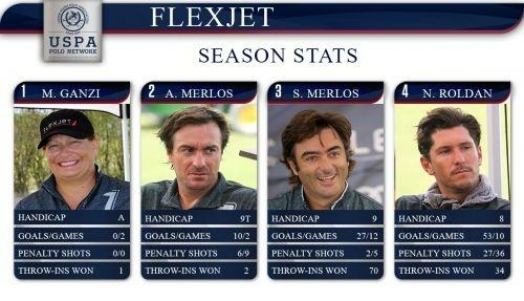 Audi Succeeds Again, Defeats Valiente 9-7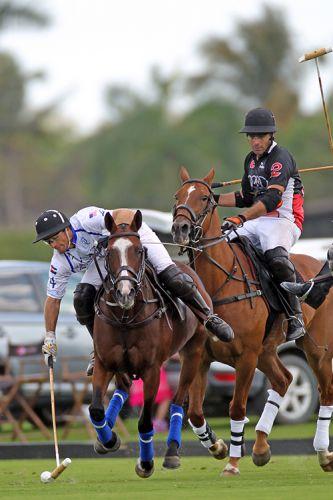 The game started with an automatic goal for Valiente to compensate for its handicap of 25, but that was the only time Valiente led. Audi won 9-7 in well-matched play, capturing the lead early and never allowing Valiente to come within more than two goals. Three seconds into the game Gonzalo Pieres scored on a penalty 4 for Audi. Audi patron Marc Ganzi picked up a loose ball and passed it to Rodrigo Andrade, who sent it through the posts to push Audi ahead.
Valiente fought hard, but Audi's defense was relentless, surrendering only two goals from the field. "We decided that we were going to make them work really, really hard for their goals," said Ganzi, noting that he had been "very mindful" of Diego Cavanagh throughout the game. "He's a real talent. Once he gets the ball, he doesn't relinquish it. We felt like we had to cut Diego away from Tomas (Garcia del Rio), Santi (Chavanne) and Bob (Jornayvaz). When Diego and Santi have a connection, Valiente is a really good team." All in all, said Ganzi, "It was a tough game, a game we could have easily lost. They are a talented team, and they are going to get better. I don't think there are going to be any easy games in this tournament."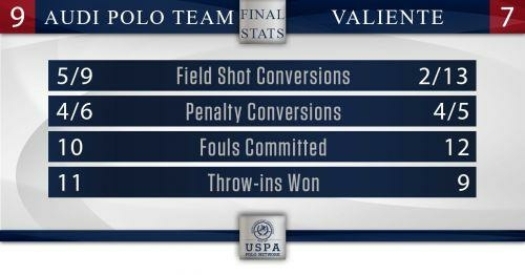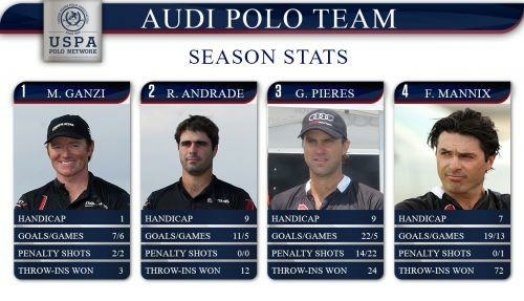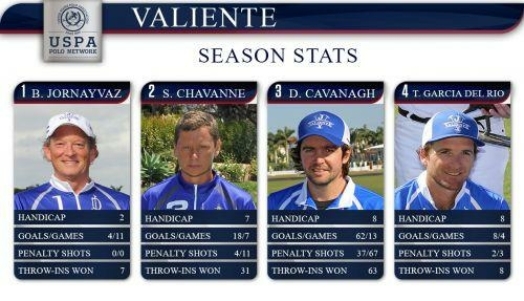 The games were live streamed by ChukkerTV, a partner of the USPA Polo Network. Live continuous coverage of the 26-goal USPA Gold Cup® resumes Thursday, March 17, with four games. Orchard Hill plays White Birch at 10 a.m.; Audi plays Flexjet at 12:30 p.m.; Lucchese plays Dubai at 3 p.m., and Coca-Cola plays Valiente at 5 p.m. All times are EDT.