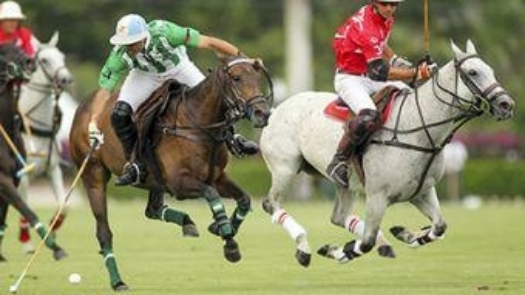 The 112th U.S. Open Polo Championship® began Saturday with two fast-paced games at the International Polo Club Palm Beach (IPC). Lucchese took a 13-11 victory over Flexjet, and Dubai defeated Coca-Cola 14-8.


LUCCHESE SNATCHES 13-11 WIN OVER FLEXJET
The first game of the U.S. Open looked like it had "overtime" written all over it until the final chukker, when Lucchese broke an extended stalemate and a 10-all tie with three consecutive goals to take a 13-11 victory over Flexjet. The decisive factor was tightly calibrated teamwork in the sixth between 10-goaler Sapo Caset and Nico Pieres (8). Pieres opened the chukker with a field goal, following up with two pinpoint handoffs in rapid-fire succession to Caset, who scored on both and was the high-scorer with 10 goals. Sebastian Merlos poured it on for Flexjet, making the final goal of the game, but his team ran out of time to recover from the eleventh-hour Lucchese push.
Flexjet held a brief but encouraging lead in the third chukker. Merlos initiated a goal on a slick three-way play, passing the ball to Nic Roldan. Roldan took a nearside neck shot to set up Agustin Merlos, who put Flexjet ahead 7-5. Caset countered with the play of the day, an astounding 150-yard dash to goal with nothing around him except green grass.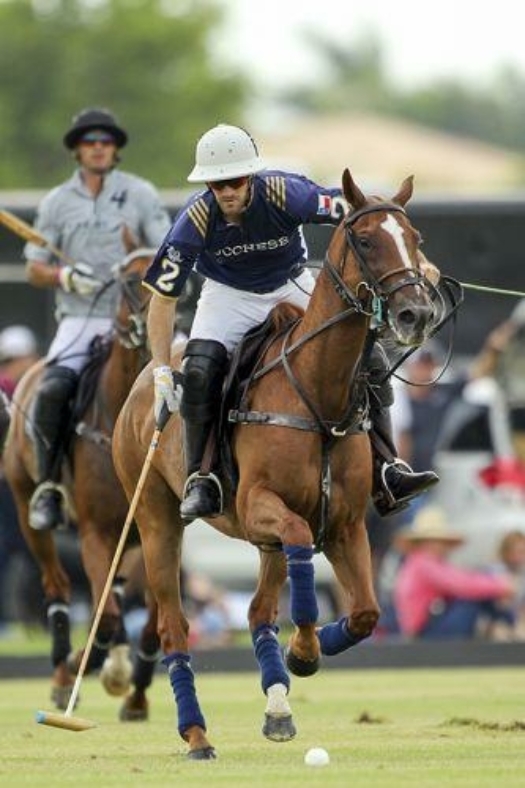 The first five-and-a-half chukkers flew by, the score bouncing back and forth, with the score tied or separated by a single goal most of the time. This was no simple game of mathematics, however. The tally on the scoreboard did not reflect the dynamics of what was playing out on the field. From a textbook standpoint Lucchese essentially dominated throughout, anticipating Flexjet's moves and making the right plays. But there was a glitch.
"We were playing great, but we couldn't score," said Nico Pieres with a mixture of frustration and relief. "We had the ball, but as soon as we got to the 60- or 40-yard we missed the goal. From inside we could see that we were controlling the game, and we felt we were playing much better than them. That's what made the difference in the last chukker."
Lucchese knew it was going to be a difficult contest, said Caset. "They're a tough team, and they play well. We took advantage only in the last chukker. We knew we could do that, but we needed to be consistent. We were playing half a chukker good, half bad, so that's why the score kept going with us up by one, them up by one," he said. "We just needed to believe in ourselves and know that if we focused and played the whole chukker well, we could take advantage. We played the last chukker like we wanted to do."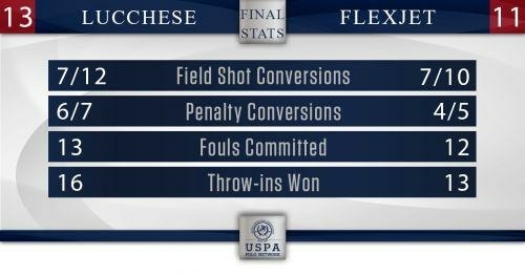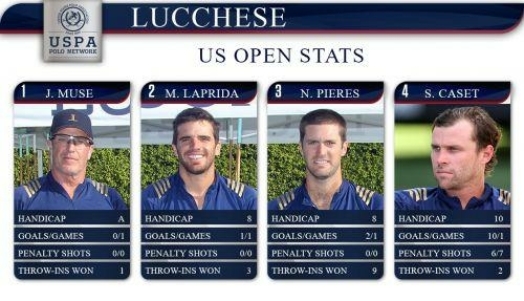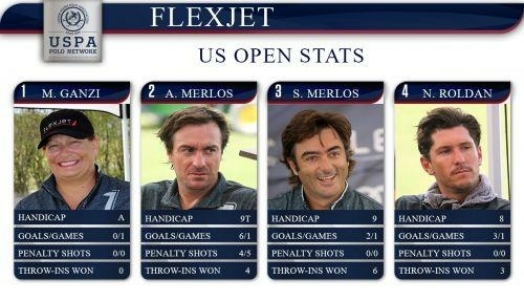 DUBAI DEFEATS COCA-COLA 14-8 IN GAME TWO OF THE U.S. OPEN CHAMPIONSHIP
Hot off their win in the 2016 USPA Gold Cup® Final, Dubai took a resounding victory in their U.S. Open debut, defeating Coca-Cola 14-8. The team in green got off to a slow start, standing scoreless in the first chukker while Coca-Cola took a three-goal lead. In the second chukker, it was Coca-Cola that went cold, while Facundo Sola thundered in with three consecutive field goals to tie the game at 3. Adolfo Cambiaso started a scoring spree in the third and continued through the end, making seven goals total. The second half opened 5-4 for Dubai, who consistently widened their lead and never looked back.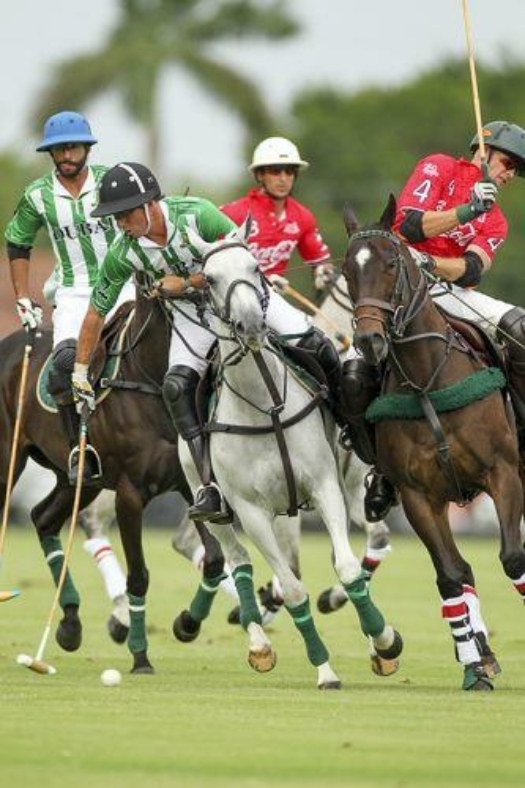 "We had to tighten up our defense, especially the throw-ins. Once we did that we had more control of the game, attacking and on defense. But they're an unbelievable team, especially on the offense," said Dubai patron Rashid Albwardy. In a nod to his counterpart on Coca-Cola, he added, "Gillian is amazing. You've got to keep an eye on her or she'll score." Johnston, who has had a strong season, did so on an impressive field goal in the fourth.
Alejo Taranco, who played in his usual tag-team style with Cambiaso, conceded that Dubai had to up their game to become effective. "We were slow and a little lazy at the beginning, especially me, and they had a better approach," he said. Cambiaso changed that paradigm, telling his teammates in no uncertain terms, "Take the man and get the ball up to me." That tried-and-true formula worked once again, shifting the locus of power to Dubai in the second half.
"We started playing tighter as a team and making more plays," said Taranco, "Adolfo made the difference." Playing two of his top-gun mounts, the aptly named "Boeing" and "Lufthansa," Cambiaso flew across the field with the ball, dodging in and out among a sea of red jerseys.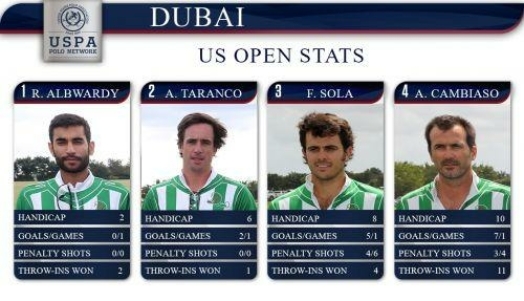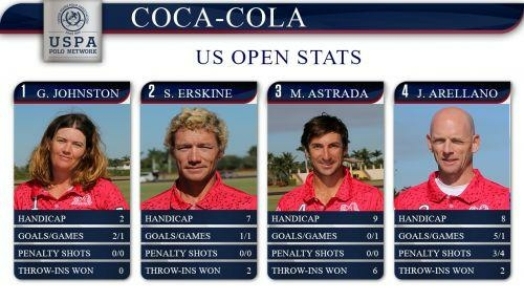 The games were live streamed by ChukkerTV, a partner of the USPA Polo Network. Continuous live coverage of the 112th U.S. Open Polo Championship® continues Sunday, April 3, with two games at IPC. Orchard Hill plays Audi at 12:00pm ET, and defending champion Valiente faces White Birch in the featured stadium game at 3:00pm ET.