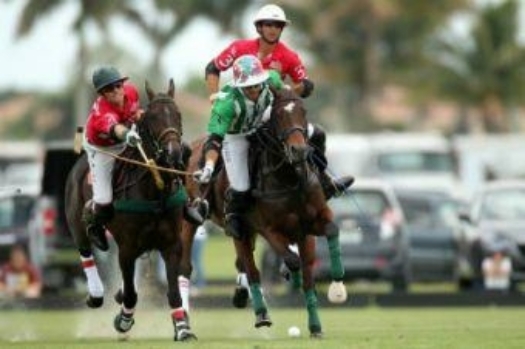 The 2015 USPA Gold Cup® Champion Audi earned the chance to defend their title in Sunday's final, taking a 12-10 semifinal win over Orchard Hill at the International Polo Club Palm Beach (IPC). In the final Audi will oppose Dubai, who defeated Coca-Cola 11-9 in the semis.

DUBAI DEFEATS COCA-COLA 11-9
Leading Dubai to an 11-9 win over Coca-Cola in the Gold Cup Semifinals, Adolfo Cambiaso showed that taking a mallet on the chin isn't enough to keep him down. Coca-Cola had a three-goal lead (5-2) with 0:41 left in the second chukker when a mallet accidentally struck Cambiaso in the face during a play. A concerned Miguel Novillo Astrada leapt off his horse and ran to Cambiaso. After the chukker break Cambiaso returned to the field with a bandage on the left side of his lower jaw. Intensely fired-up, he promptly made back-to-back goals to bring Dubai within one goal of Coca-Cola. Followed by Rashid Albwardy, who took the ball on a breakaway to tie the game at 5.
With four consecutive rapid-fire field goals, Facundo Sola pushed Dubai into overdrive. He was the game high-scorer with seven goals, several on Cambiaso assists. Dubai held a two-goal lead at the end of the fourth and fifth chukkers. Coca-Cola made two goals in the sixth, but then Dubai benefited from a penalty 1 and another Sola field goal, taking the win and securing their place in the final.
Sola has been Cambiaso's neighbor since childhood (their farms sit on adjacent land in Córdoba, Argentina). Since he was 10, Sola practiced and played in tournaments with Cambiaso, but until now the two had never competed on the same team. "It's amazing to play with the best player in the world. He has everything. He has confidence, and he gives confidence," said Sola. He said Cambiaso didn't give him a specific strategy today but kept telling him, "You can do it! Make the goals! Let's go!"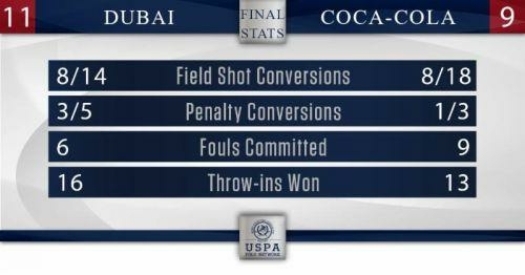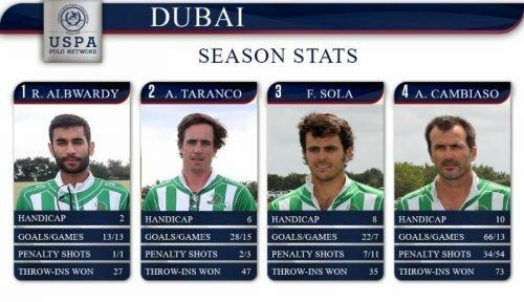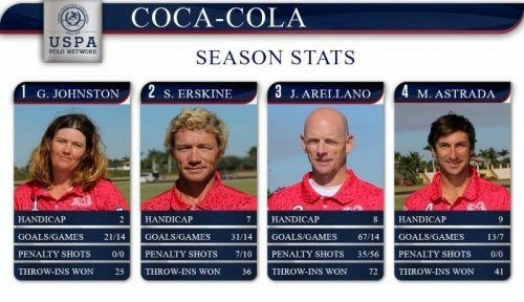 AUDI EARNS CHANCE AT SECOND CONSECUTIVE GOLD CUP TITLE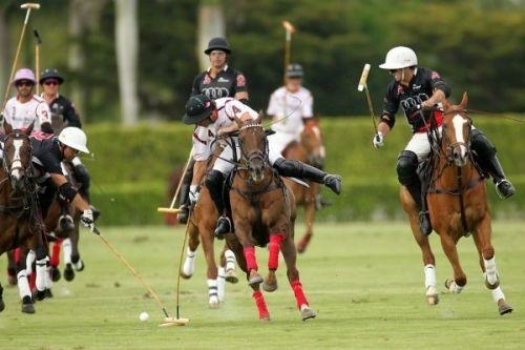 Defending Gold Cup Champion Audi played a strong defensive semifinal from start to finish, keeping Orchard Hill from scoring in three chukkers. Orchard Hill started the game with one goal to compensate for its handicap of 25, due to the substitution of Hilario Ulloa (9) for the injured Polito Pieres (10). Audi defeated Orchard Hill 12-10.
"Our attitude today was defense first," said patron Marc Ganzi. "You can't worry about the calls or bad luck; you have to know that there is a better play ahead, and you have to trust the system. I think that is what makes this team magical. There is a deep amount of trust in the four players. We believe in each other and we expect each other to make the plays.
The strategy worked, but in the third chukker Ulloa scored four consecutive goals, giving Orchard Hill an 8-7 lead. In the second half, the score alternated between a tie or a one-goal difference, until the final chukker. Gonzalo Pieres was the only player to score in the sixth, making three goals to give Audi the win and the chance to defend their 2015 Gold Cup title.

Audi's victory over Orchard Hill was particularly sweet, given the result of the previous tournament. "They took us down in the C.V. Whitney," said Ganzi of Audi's loss in the final to Orchard Hill. "It is so tough to make the finals. We made two, which is incredible, and we now have a chance to defend our title, which is pretty cool. I am looking forward to it. It is a real honor to have a chance to repeat."
The games were live streamed by ChukkerTV, a partner of the USPA Polo Network. Continuous live coverage of the USPA Gold Cup® resumes Sunday, March 27 at IPC. Valiente plays White Birch in the Tesoro Cup subsidiary final at noon, and Audi faces Dubai in the Gold Cup Final at 3 p.m EDT.