The Venue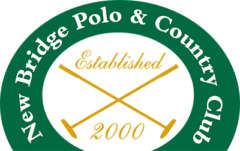 Driving into the New Bridge Polo & Country Club (New Bridge) in Aiken, South Carolina, one may think they had just entered an argentine estancia. With its signature four-board black fencing and orange clay dirt roads--it's no accident that the New Bridge Polo Club alludes to the current mecca of polo. Founded by amateur polo player Russ McCall in 2000, the club was created in partnership with Argentine professional Matias Magrini.
The astounding 861-acre New Bridge development boasts five world-class polo fields in a private gated community. While that may sound intimidating, McCall points out that the gates serve less as a barrier to keep people out, but rather as a means to keep the occasional escaped horse in. The atmosphere of the club remains true to its humble beginnings, unpretentious, in a natural wooded setting, framed by southern pines and surrounded by an effortless tranquility. 
The centerpiece of the club is the rustic colonial-style clubhouse. Constructed of old wood that was shipped from Argentina and assembled onsite, it brings the history and ambiance of the Argentine way of life to South Carolina. The clubhouse also conveniently houses a player's bar, restaurant and outdoor asado area for post-game parties. Spectators are invited to sit on the porch with a spectacular view of Field 1 to watch the featured Sunday matches. New Bridge offers country living without the inconveniences of country distances. Cottage-style bungalows are situated on residential lots lining Field 1, as well as larger estate houses with the option to buy or build.
New Bridge Polo Club
862 New Bridge Road
Aiken, SC 29805
View Map
Club Website